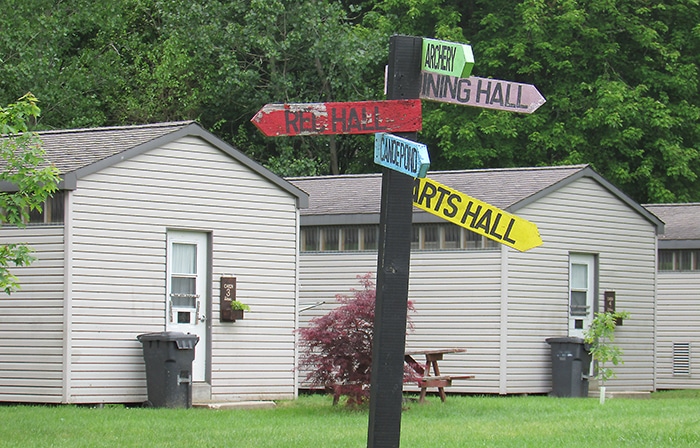 By Pam Wright, Local Journalism Initiative Reporter
The Thamesville Herald
Pushed to the brink by COVID-19, Bothwell's Camp Vincent is teetering on the edge.
The iconic children's summer camp – set to mark its 50th anniversary in 2021 – may be forced to close unless some last-minute funding is found.
According to the chairperson of the camp's executive board, the pandemic has created "very challenging" circumstances for the facility.
"COVID-19 is the catalyst," says Collin Girard of the camp's precarious financial situation. "It's kind of pushed everything over the edge."
It's been a tough year for the camp. In addition to not being able to host children because of the pandemic, the camp suffered a burglary in August that resulted in $12,000 worth of damage.
The camp's tractor broke down as well, making it difficult to cut St. Vincent's vast swaths of grass.
However the local chapters of the Knight's of Columbus in Chatham stepped forward and donated a Ford tractor.
But the pile of bills, including taxes and utilities continues to mount.
Girard says the organization is in need of around $50,000 to get it through to next May, with the hope the camp can again open its doors to children.
An average of 700 youngsters normally attend the Longwoods Road facility each summer, overseen by about 30 counsellors.
It's estimated that 30,000 youngsters from across Southwestern Ontario, as well as Toronto and Niagara, have attended the camp in its 49-year history.
Around 500 staff have worked there too, including Girard, who spent eight summers as a counsellor and two as an administrator.
The camp has never reached out to the public for funding before, relying on camp fees and a host of donors who quietly give.
"A lot of our donors sponsor kids, which is great," Girard said, but that doesn't help pay for items such as maintenance or water system upgrades.
A third of the organization's budget is made up of donations.
In order to fundraise, St. Vincent officials have entered into a marketing campaign with a Wallaceburg radio station, CKXS to see if sponsorship funding can be found.
Lee Salisbury, who also works on maintenance at the Bothwell site, is helping spearhead the campaign.
The fundraiser is offering donors four levels of sponsorship, ranging from one camper at $350, to a corporate 'survivalist,' level at $5,000, which includes a company logo on camp T-shirts and other merchandise.
People are also welcome to make a donation of their choice either online, or by mailing to
the St. Vincent de Paul offices at 80 King St. E, Chatham, Ont., N7M 3M8.