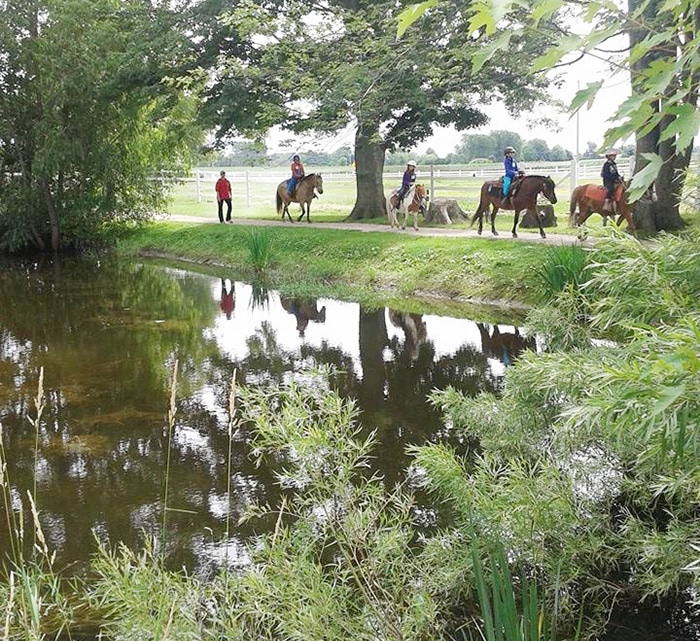 By Jenna Cocullo, Local Journalism Initiative 
Chatham-Kent's popular equine facility is changing its business plan to adapt with the times of the pandemic.
TJ Stables has been one of several tourism spots figuring out how to survive the winter, as revenue from the spring and summer seasons is practically non-existent. What's more, the facility has to continue paying the bills in order to feed the horses.
"Lots of things have been happening here. Of course, we're not able to do our summer camps, which is our revenue for our winter feed," owner Terry Jenkins said. "So we've adapted to do a land-based farm day program with the online tutoring (virtual school)."
Jenkins said the stables have blended the virtual school curriculum with the land-based learning opportunities.
Children can see the effects erosion has during different times of year, and on windy days go down to the hedgerow and tree line to learn how they stop erosion. Kids also take trips down to the pond to observe different animals hibernating, and will be shown how animals take care of themselves in burrows and dens.
"Kids can come for the entire day. It is a break from their usual virtual schooling. In the past, we did have a lot of school trips that came to TJ stables," she said.
Jenkins is unsure if she will ever be able to recover from the economic downturn, but is optimistic her new offerings will keep the stables afloat.
Jenkins said she was "frustrated" with the camp situation in Chatham-Kent. In the summer, when other parts of province were allowed to do summer camps, Chatham-Kent's medical officer of health opted to keep them closed.
Last week the order was revoked, but it is too late for Jenkins to recuperate what was lost in the summer.
"All my colleagues in the horse business could do summer camp in Phase 2. For us, we were hoping we could open up in Phase 2 but the MoH said no. I couldn't see the reason for it. It's very difficult to swallow that and to accept that. It didn't make sense. That's three months worth of revenue,"  she said.
TJ Stables is currently operating at 50-per-cent capacity. Jenkins had to sell 20 horses and cut staff down from 22 individuals to only seven working on shift a day.
"Our business will look different next year for sure. We won't have the volume that we had before and I don't think we'll ever have that volume again," she said, explaining it takes years to train new horses to adapt to different personalities.
Jenkins is using her Ojibwa spirit horses to incorporate First Nations learning, as well as Truth and Reconciliation, into her education experience.
The general public can also bring their sleeping bag, pillow, and flashlight, and to book an overnight stay in a teepee and interact with the animals. Jenkins is also offering a drumming circle and medicine walk in the woods.
"The teepee is very cozy. We can put a fire in there and it's very comfortable even though there's chilled fall temperatures," she said.
With more people doing local tourism, Jenkins has also developed a day tourism package for young families who want to take their kids to pet some animals, pick vegetables to feed their furry friends, and ride some ponies.
Comments
comments