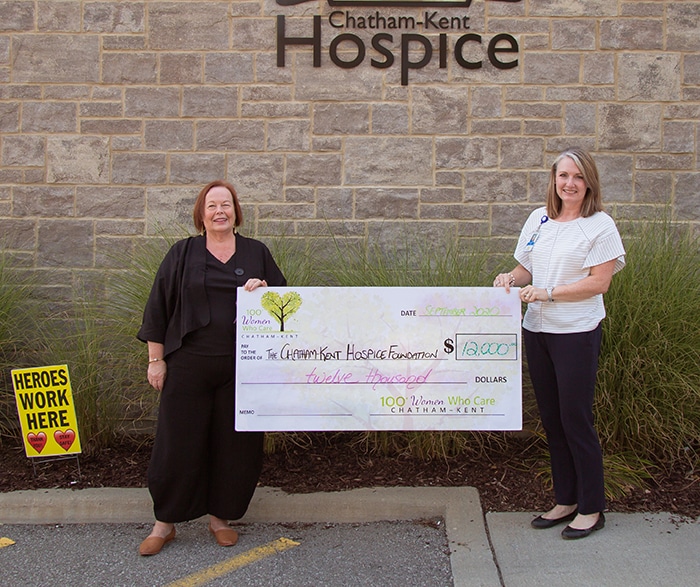 Starting off its fifth year in Chatham-Kent, 100 Women Who Care (HWWC) presented $12,000 to the Chatham-Kent Hospice Foundation recently.
HWWC member Barb McEwan nominated the hospice as a recipient. She also sits on the hospice foundation's board of directors, and presented this financial need to the HWWC group for its August meeting.
Unable to meet in person, to adapt to the current restrictions, HWWC nominations and voting took place online.
"Support from 100 Women Who Care will be used to continue to offer compassionate, end-of-life residential hospice care to local families who, on top of dealing with a pandemic, are also dealing with the emotional turmoil of the illness and death of a loved one," McEwan said in a media release.
"We are overwhelmed with the thoughtfulness of HWWC, especially during these uncertain times. Our hospice families have no choice but to deal with end-of-life and the pandemic. This means a lot to me and our hospice families that call hospice 'home.' Thank you," said Jodi Maroney, executive director, Chatham-Kent Hospice Foundation.
Since August 2016, HWWC Chatham-Kent has donated more than $180,000 across 16 local charities and the May 16th Miracle.
The group meets quarterly and, at each meeting, three local charities in financial need are presented by members. One is then selected by majority vote to receive more than $10,000 Each member of 100 Women Who Care commits to making a $100 contribution to the selected charity, which results in a large impact donation in the community.
Membership is ongoing. All women who care about Chatham-Kent and want to make an immediate, direct and positive effect in their home community are encouraged to join.
The next meeting is hoped to be held in person on Nov. 25 at the Retro Suites Derby Event Centre from 6 p.m. to 7 p.m., however, it will be determined by Nov. 1 if it will again take place through online nominations and voting.
For more information, as well as commitment and nomination forms, visit www.100WomenWhoCareChathamKent.com or e-mail 100WomenWhoCare.CK@gmail.com.