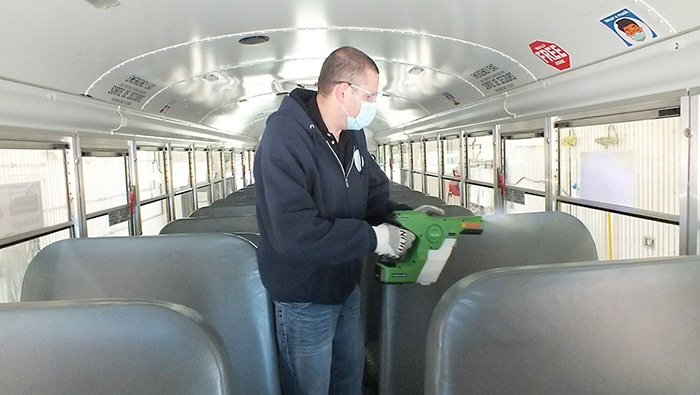 By Pam Wright, Local Journalism Initiative
The Thamesville Herald
Thanks to pandemic precautions, local school bus companies are taking 'clean' to the next level.
That's the case at Badder Bus Lines in Wabash. The company has just acquired fogging machines that dispense clouds of disinfectant throughout the bus, cleansing seats and areas children might touch.
According to transportation manager Mike Badder, the new protocols are going well.
"The key people are cooperating," Badder says, adding it's just part of a day's work.
"For us it's not such a big deal," he explains. "We're already doing the cleaning, it's just one added step.
Badder Bus Service, which supplies 38 routes within Chatham-Kent and Sarnia-Lambton, currently has 45 drivers on staff.
Unlike other regions in Ontario, Chatham-Kent bus drivers are doing their part.
Fortunately, Badder says, local drivers have stepped up in the face of COVID-19, unlike other areas where employees won't work out of fear of catching the virus.
Local drivers are masked throughout their run and wear shields when children are getting on and off the bus.
"We're finding that it's working out so far," Badder says.
The company is fogging the buses each day at its three yards in Dresden, Wabash and Ridgetown.
A third of the buses — whose drivers keep their buses at home — use a spray bottle with the same provincially-supplied solution for cleaning.
Badder Bus Service one of the companies overseen by CLASS Shared School Services, a consortium that provides transportation to the Lambton Kent District School Board and the St. Clair Catholic District School Board.