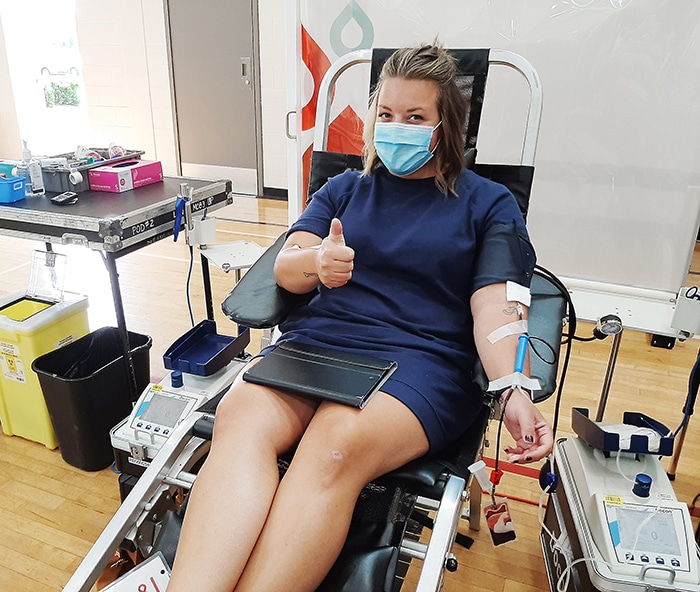 By Jenna Cocullo, Local Journalism Initiative
The regional blood bank has a healthy inventory of blood thanks to donors who did not shy away from the clinic during the COVID-19 pandemic.
On Sept. 15, Canadian Blood Service (CBS) held a donation clinic at Chatham's YMCA. The collection target was 115 units of blood.
"We've absolutely reached that target. Chatham-Kent is a very giving community," said Marisa Gatfield, territory manager, CBS. "Honestly, donors have really responded generously throughout the pandemic. We are very fortunate that people came out and donated the gift of blood."
Because blood has a shelf life, there is still a need for donors every day.
"Quite simply it saves lives," said Marc Martin, lifelong Pain Court resident, when asked why he was donating for the 70th time. "And I knew that that (COVID-19 safety) procedures would be right up to quality."
Gatfield said it is completely safe to continue donating despite the COVID-19 virus, but there are a few changes to procedures.
"It's still a really wonderful positive experience and safe for people. We have protocols in place for staff, volunteers and donors that allow us to be in compliance with the federal public health agency," Gatfield said.
Only appointments will be taken as walk-ins have been suspended until further notice.
A wellness checkpoint is now in place at the front entrance where staff issues a pre-screening questionnaire and temperature check.
The entire process from start to finish is no longer than 45 minutes.
"We normally would get more people (with walk-ins) but unfortunately we can't accommodate that. Walk-ins have longer wait times, so this way there are no issues," Garfield said.
There are still appointments remaining for the Sept. 26 clinic, hosted at the WISH Centre, King Street, from 9 a.m. to1 p.m. The mid-October clinic is full, but 45 appointments remain open for Oct. 24.
"It's pretty quick and easy and safe. So there's no reason not to donate," said Chatham donor Shaneka Willer, 33. "It only takes maybe 15 minutes to draw blood and does not hurt."
John Debruyn, 64, added that it would make a great family outing.
"I do it every month because it's something good. My father got me going when I was a teenager and I've been doing it ever since. Sometimes I come with my wife and three kids."
Appointments can be booked at blood.ca, or CBS' Give Blood phone app. People can also call in to book an appointment at 1-888-2-DONATE (366283).
Comments
comments