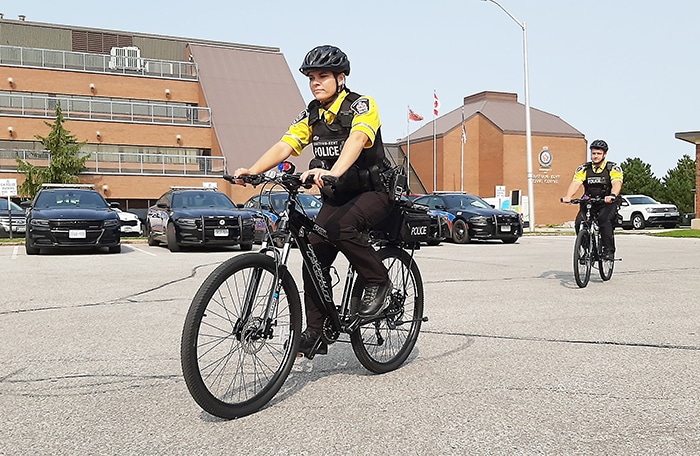 By Jenna Cocullo, Local Journalism Initiative
The Chatham-Kent Bike Patrol Unit (BPU) is coming out of re-cyclement after a 20-year hiatus.
On Tuesday, the Police Service Board approved a new BPU, costing $10,639.
Eight officers will ride in groups of two, for a total of four patrols. Two backup officers were also trained for the new unit.
"To be able to get out of the car and connect with everyone is huge," said Sgt. Doug Cowell who initiated the BPU.
Cowell said all bikes are equipped with radios, blue-red emergency lighting, night riding gear and can be used on trails and parks.
The BPU will be used for more than just monitoring local parades and festivals.
Officers using the bikes will be able to attend every call that a cruiser would. The only time a police vehicle would need to be called in would be in the event of an arrest.
"It engages citizens on a more personal level. It gives local small businesses owners and customers a sense of security, and in turn assisting the local economy," Police chief Gary Conn said.
Residents in Chatham-Kent's smaller communities will also see members of the service cycling the streets on their new rides.
Conn said the BPU would assist the service in focusing on preventative proactive measures rather than reactive policing. In addition, officers will be able to more easily communicate with the public in the downtown areas of Chatham and other towns.
One of the bigger advantages is the ability to patrol the natural trails and parks where cruisers cannot access. Conn added that in some instances officers with the BPU would be able to respond to calls quicker once they learn all the shortcuts and back ways around town.
The start-up costs included the purchase and shipping of the bikes ($6,288), the officer certifications course ($800), uniforms ($3,040), and money set aside for repairs ($500).
Training current officers in the Community Patrol Branch was the most fiscally responsible option, said Conn. Other options included the hiring of new constables, which would have cost between $380,000 and $513,000.