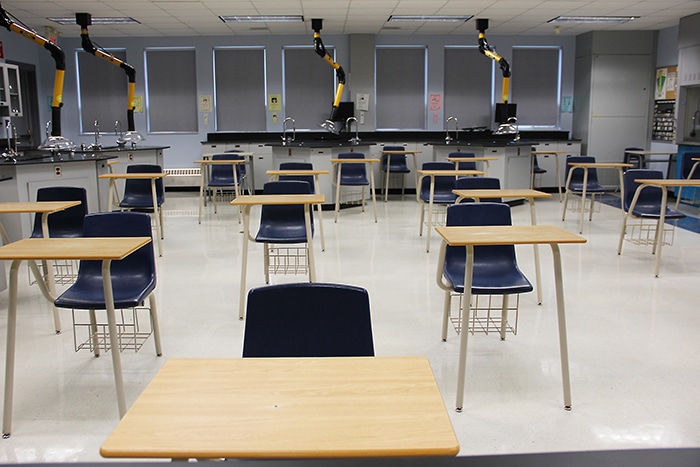 By Jenna Cocullo, Local Journalism Initiative
Students not returning to the classroom, be it face-to-face or virtual, are costing the Lambton-Kent District School Board (LKDSB) $1.25 million in funding.
The parents of approximately 100 students, out of a student body of 14,000, chose a third option for their kids as school is set to resume amid the pandemic – home schooling.
Home schooling – not to be confused with the virtual schools run by the board – is when parents take full responsibility for their child's education without support from the system.
"I think there's some uncertainty at least to start the school year; there's some uncertainty as to what it will look like," said Brian McKay, superintendent of business, LKDSB. "I think a lot of families will see what happens and we're hoping a lot of those kids will come back to us once parents understand what the school year looks like."
Ontario's average per-pupil funding amount has reached $12,525 in 2020. When a child de-registers from a school board, the board loses that funding.
Count Day, the day when schools that receive government funding officially tally their students, is on Oct. 31 this year.
"That's the date when we truly will know what those numbers are like, and how any change in enrolment due to family decisions with their students will impact our 2020-2021 budget," McKay said.
A report will be brought back to trustees in late November or early December once LKDSB gets a better sense of how the school year is functioning. McKay said the goal is to maintain a balanced budget.
The dates for the revised budget are not out of the ordinary. They are always revised several months into the academic year, after Count Day, he said.
One trustee at Tuesday's board meeting brought up the concern that the first official date for students to change into in-person learning is Nov. 16, after Count Day when the board will have to report to the province.
John Howitt, director of education, LKDSB, said the board would do its best to immediately accommodate homeschooled students. They will be treated like the students who move to a new school during the academic year. If they transfer after Oct. 31, they would be included in the next Count Day on March 31.
READ MORE: MULTIPLE TEACHERS, DIFFERENT CURRICULUM POSSIBLE
A loss of revenue is not the only issue that school boards will face when re-evaluating their budgets, there are also the increased expenditures from COVID-19.
Around 30-35 new teachers were hired for the virtual school to have dedicated educators and to staff extra classrooms so class sizes can remain small.
The virtual secondary school has approximately 800 students enrolled, 15 per cent of the student body. The elementary school that has approximately 2,000 students, 13.5 per cent of the student body.
Much of those expenses will still be covered by the provincial and federal dollars, but not all of it. Despite the incurred costs, the board will continue to do what it feels is in the best interest of the students, Howitt said.
The first payment of government funding, $350 million, was dispersed to the school boards to be used in a number of areas, he explained.
"The highest percentage of those dollars that came to school boards were discretionary dollars for COVID-19 spending. That said, we will still need to dip into our reserves."
The province is allowing the school boards to use up to two per cent of their operating budgets from the reserve funds to cover COVID-19 related expenses during the school year. For LKDSB, that amounts to an extra $5 million at their disposal, according to McKay.
"That is not to say we need to use that. Really what that means is that the Ministry (of Education) is giving us more flexibility. It all depends on how enrolment looks at the end of October and the cost of the 30-35 teachers," McKay said.
McKay said at this point any funds earmarked for capital projects are still on track for the school year and the board is currently not anticipating any delays for capital work.
LKDSB is still in the process of hiring more custodians and nurses, after the Ontario government provided additional funding for cleaning and health and safety.
READ MORE:  Local union head says schools lack custodians