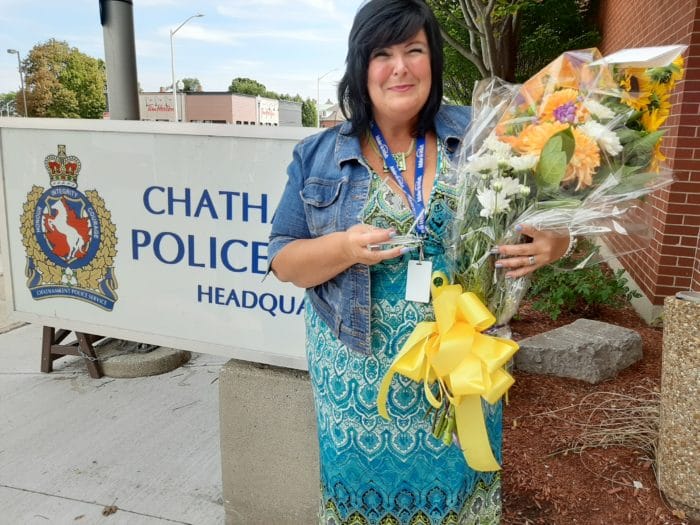 By Jenna Cocullo, Local Journalism Initiative
A Chatham-Kent volunteer extraordinaire made the police service proud as she humbly accepted an award for her contributions to the community.
On Wednesday afternoon, Kristine Jarvis (Herfst), Canadian Police Information Centre Unit, accepted the Police Services Hero of the Year award for community role model.
"I'm very honoured and very overwhelmed," Jarvis said.
Over the past five years, the Police Association of Ontario (PAO) asked Ontarians to nominate local uniform and civilian police personnel who go above and beyond while on duty or within their communities.
"Her endless energy and big heart are inspiring," said Bruce Chapman, president of  PAO, while making a speech about Jarvis' contributions.
Jarvis sits on the board of Victims Services, and the committees for Shop with a Cop, Polar Plunge, the Chatham Goodfellows' No Child Without a Christmas toy drive, local food drives, First Responders' Easter Extravaganza, and fundraising events for the Chatham-Kent women's centre.
Jarvis said the toy drive is very near and dear to her heart. 
"The community gives so generously to the toys. We increase it every year which always impresses me, surprises me and delights me."
Chapman highlighted the importance community involvement has when fostering good relations between the service and the community it serves.
"Proudly and generously, Kristine continues to give back to the community she serves, representing the (police) service she works for," he said. 
Outside of work, Jarvis is also a wish granter with the Make A Wish Foundation for the past five years. 
"Make A Wish, that's a real tug on my heart strings. To give those kids the best day of their very troubled lives," she said. "Those parents are the very definition of bravery and courage for the things they have gone through. And to give them their child's wish, there's absolutely nothing like that."
As a hobby and side-fundraiser, Jarvis runs her own small candy business called Sugar Mommas, where she donates most of the proceeds to United Way and local breast cancer research.
Due to the COVID-19 pandemic, the PAO was unable to hold its annual awards ceremony, so Chapman visited each community for a socially distanced ceremony.
Jarvis added she is proud of the entire Chatham-Kent Police Service, many of whom she says also give back in their spare time.
After the award presentation, a letter written by the solicitor general was also read out loud. Jarvis was then presented with flowers on behalf of the Chatham-Kent Police Service, and chief Gary Conn said a few words.
"Kristen personifies, and is certainly a comdenable and worthy recipient, of this award," he said. "Thank you for all you do for our organization and community as a whole."