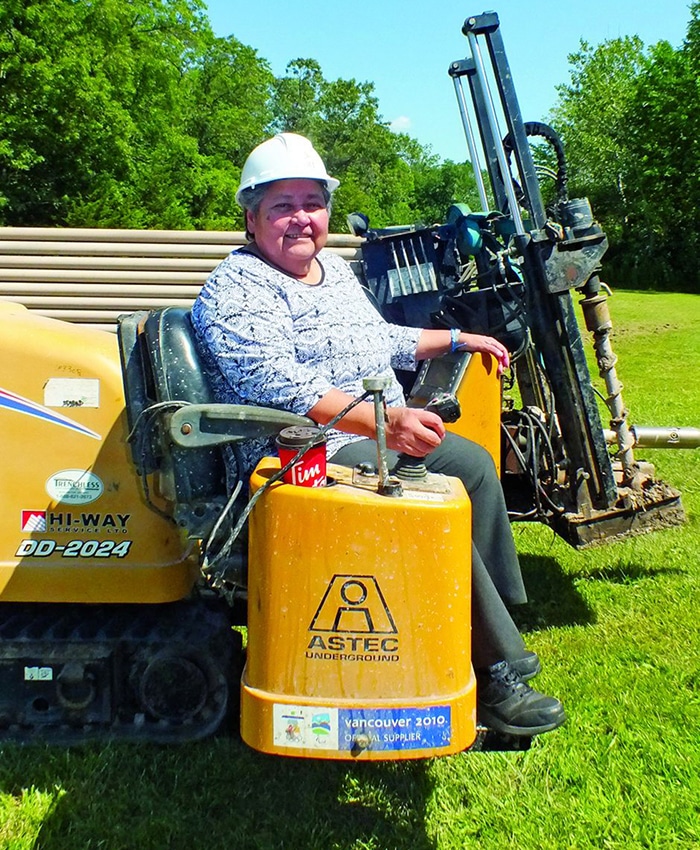 By Pam Wright,Local Journalism Initiative
A pilot project currently underway at Moraviantown will soon be bringing state-of-the-art Internet to the Delaware Nation.
Two years in the making, the $700,000 project is a collaborative effort between the government led SWIFT (Southwestern Integrated Fibre Technology), TekSavvy and the First Nation community.
SWIFT has committed $460,000 to the project, while TekSavvy has pledged $215,000 towards it.
Chief Denise Stonefish, who held the shovel at Friday's groundbreaking ceremony, says she's happy her community is part of the project.
"People think high speed Internet is a luxury," she says. "It's not…it's an essential service — especially for our youth.
"This opens up the digital world to everyone in the community."
Stonefish, who sits on SWIFT's 21-member board, says COVID-19 pandemic has reinforced the importance the Internet, especially in the areas of health and education.
"We've had to go door-to-door to communicate to our people," Stonefish says, adding access to high speed Internet is a safety issue.
Workers are on site on western edge of the community, putting 12.6 kilometres of fibre-optic cable in the ground. They're using specially designed directional drilling equipment to run the line at a depth of three feet.
Mike Persyn, director, outside plant and facilities for TekSavvy, says the initial line will supply 83 homes in Moraviantown with high-speed service.
Plans are also in the works to expand the partnership to help Moraviantown achieve its vision of becoming its own Internet service provider.
SWIFT executive director Barry Field, commends Tek Savvy for being a "very good partner" in the venture, adding the company has committed to an "aggressive schedule" for the work to be completed by mid October.
He says the cable will allow Moraviantown to become its own provider and create more opportunities for residents across the board. "I understand they struggle with it" Field says of the current Internet system. "This will give them unfettered access."
Other fibre-optic developments in Chatham-Kent are on the horizon. Requests for proposals for $11 million in projects to improve access in under serviced areas of Chatham-Kent close on Nov. 13.
SWIFT Inc., founded by the Western region warden's caucus, is a not-for-profit corporation working to boost the reach of broadband connectivity in the province.
• The Thamesville Herald