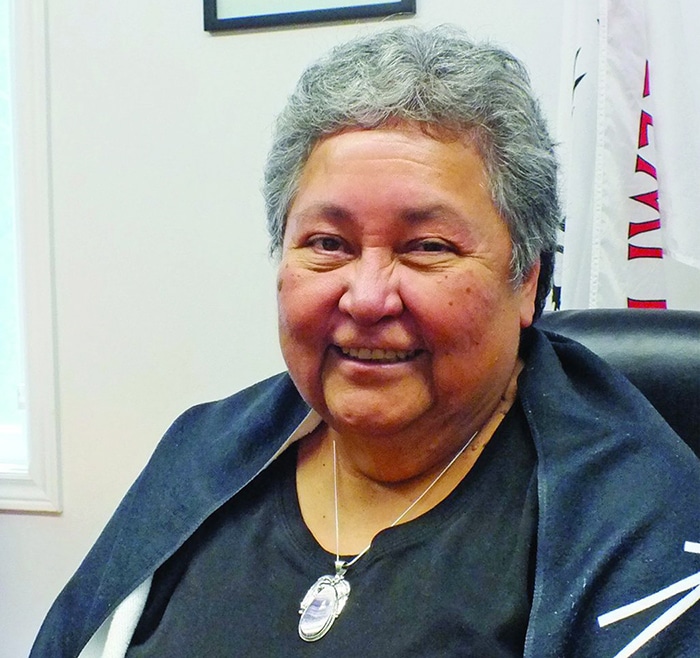 Revitalizing families is at the top of Denise Stonefish's to-do list.
As Chief of the Delaware First Nation at Moraviantown, Stonefish says it is her most important role.
"It is about the children," the soft-spoken leader of the Lenape community near Bothwell explains.
The Delaware First Nation at Moraviantown encompasses 3,000 acres of farmland and forest, threaded by the Thames River. It includes 167 households, 27 businesses and 500 citizens — half of whom are under the age of 25.
"We have a young community here which makes the revitalization of the family even more important," she says.
The community is seeking a return to the traditional ways, Stonefish says, adding "young people are wanting more."
Part of the ongoing changes on the reserve, include the teaching of the Lenape culture, with a focus on the preservation of the language.
Under Stonefish's leadership, community events and holidays are centred on families and there's been a ongoing return to traditional First Nation ceremonial practices.
"We have feasts and come together as a community on Mother's Day and Father's Day," she says, adding the family is celebrated and respected.
Stonefish has been serving her communityfor 32 years. In 1988, she was nominated to run for a seat on council.
She agreed, not thinking it would amount to much, and won.
After one year of serving as an elected official, Stonefish knew she had found her calling and she remembers telling her mother about her desire to serve in response to a scolding she had received that it was time she figure out what to do with her life.
After serving as councillor and representing her community in many ways, Stonefish was elected Delaware's Chief in 2017 and again in 2019. She says she'll run again in 2021 if nominated.
While Stonefish says prefers to stay out of the limelight, she often finds herself in prominent leadership roles.
She's represented First Nations communities in Canada on the national stage.
"I like to think of myself as more behind-the-scenes working with technicians and colleagues," she says.
She became the Deputy Grand Chief of the Assembly of Iroquois and Allied Indians, as well as the chair of the Assembly of First Nations Council of Women.
Stonefish says she learned a great deal from serving an agency that represented 634 First Nations bands from across Canada.
It also put her in close contact with people who were looking for justice from the Inquiry into Missing and Murdered Indigenous Women and Girls in Canada.
Previously, Delaware officials were allowed to hold positions outside the community, but rule changes, and the business of the Chief's role spurred her to scale back her work.
Besides, Stonefish says, you can "only do so much" and the chief's job is "24 hours, seven days a week.
"You have to be available."
Born in Chatham-Kent 66 years ago, Stonefish left the Moraviantown community when she was very young.
The family of eight, including parents Jean and Lawrence, with three boys and three girls, moved to Detroit so her steelworker father could find work.
The future chief started kindergarten in the Motor City and then attended elementary school in the Windsor area.
When she was 12, her family moved back to Moraviantown.
"Once we came back here, that was it," Stonefish says. "There was no going back."
Stonefish went on to attend secondary school at Ridgetown District High School, and it was, what she calls a "good experience."
She says she didn't experience racism at the school because of her involvement with sports.
"As for me personally, I didn't experience it, but I knew it was there."
As an athlete, Stonefish excelled. An avid fastball player, she pitched and played first base. Plus she was a good hitter.
Known as "Rocky," Stonefish played the game for many years, playing on various teams including Kent Bridge.
Originally in high school, Stonefish had wanted to be a mechanic but she says the sexist school system wouldn't allow it. "They channeled me into business and administration," she explains, adding that in hindsight, it ended up being a good fit.
After attending Fanshawe College and trying her hand at parts merchandising and factory work, Stonefish made the decision to attend St. Clair College in Chatham in where she majored in accounting.
The diploma led to jobs with the Native Women's Workshop in London and the Seven Bands Community Futures program.
The job of chief remains just as busy today as it ever was, Stonefish explains, as the Delaware First Nation has many major projects underway.
The community continues to work towards connecting to the Chatham-Kent municipal water supply; there's a major reforestation project on the go, and the first stretch of high-speed Internet cable will soon be completed.
Part of the ongoing changes on the reserve, include a return to the native Lenape ways, with a focus on the preservation of the language.
The community is seeking a return to the traditional ways, Stonefish says, adding "young people are wanting more."
More traditional ceremonies and family-focused feasts are being held as well, she explains.
As one of five Lenape First Nation communities in North America, Moraviantown featured prominently in early history, particularly in the War of 1812.
In 1972, records show the Lenape's original home in what is now Manhattan, and they were signatories on the first American treaty with First Nations people.
Stonefish says the Lenape were promised their own state — it was supposed to be Ohio — but it didn't happen.
Because the Lenape were "pacifists," Stonefish says they were accused of choosing sides — by both the British and the Americans.
Led by Moravian missionaries — a Protestant religion founded in Germany — the group made its way to what is now southwestern Ontario.
Originally, they were awarded 51,000 acres in Chatham-Kent. But Stonefish says the land was whittled away by squatters and sold off by the federal government and the Moravian missionaries.
"But we survived," Stonefish says. "We're resilient."
Stonefish hopes to expose the Lenape culture to the world. Fairfield, the original Lenape village that was burned to the ground by Americans in 1813, and some ancestral burial grounds were returned to the Delaware First Nation last year by the United Church of Canada.
The First Nation and the church continue to talk about returning the Fairfield museum to the community. Eventually, the community hopes to build an interpretive centre, similar to the one in Manhattan. "We have a rich history here and we'd like to be able to one day showcase that."
• The Thamesville Herald
Comments
comments