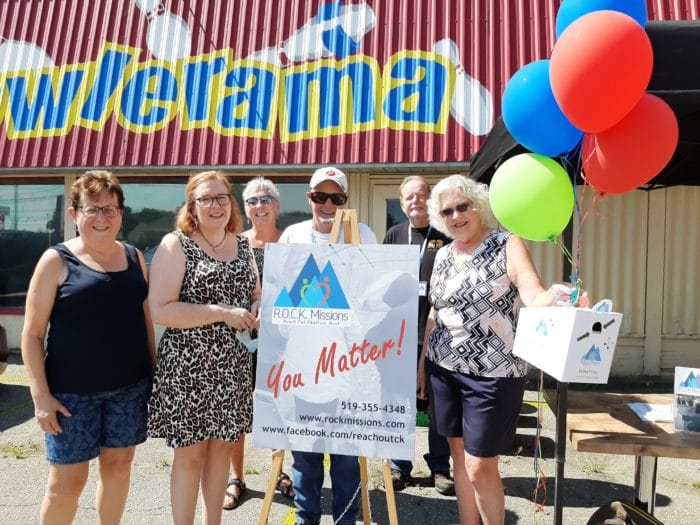 By Jenna Cocullo, Local Journalism Initiative
On Aug. 14, 2019 Jeff Parker and a couple of volunteers were out on the streets feeding approximately 14 homeless people. Fast forward 12 months and there are now more than 30 individuals providing 340 meals twice a week to their friends.
On Saturday, Reach Out Chatham Kent, also known as R.O.C.K. Missions, celebrated its one-year anniversary.
The organization hosted a free barbecue outside the Chatham Bowlerama on Keil Street. Residents were able to make donations and get to know the team.
"I am very happy that R.O.C.K. has been established to address the needs of the most vulnerable citizens. I don't know what our community would be like without an organization like this," said Chatham Coun. Karen Kirkwood-Whyte, who also volunteers with R.O.C.K.
Parker co-founded the organization with his friends Candy McGuigan and Al McGuigan, after noticing a gap in services from similar organizations.
R.O.C.K. Mission provides clothes and lunch to the homeless twice a week on Tuesdays and Thursdays.
A year ago, Parker noticed that other services in Chatham-Kent weren't providing enough to help the homeless. He recalled seeing men get turned away from shelters because of bed shortages and food running out, leaving dozens of people hungry.
"So Al ran home, got his truck and barbecue and we fed the remaining people. Everyone cried. The next day we left, and R.O.C.K. Missions was born," he said.
The volunteers also connect those in need to the appropriate social services, provide them with clean health supplies, support the transition to affordable housing, and encourage people to go seek medical help at the hospital. Nurses and mental health workers also come along to help with outreach.
"A lot of people don't go to the hospital because they are afraid of the stigma. So the point is we go to them because people who suffer from trauma often don't go seeking the services themselves," said Renee Geniole, treasurer of R.O.C.K.
Geniole said all the work done over the course of the year has been a collective effort between many volunteers, who sometimes put in full-time hours, and a range of community organizations.
Luckily, COVID-19 did not hinder their efforts. Volunteers said they have been going out in small groups of four to continue their deliveries during the pandemic. Jeniol added that the May 16 Miracle – a day where volunteers collected tens of thousands of food items across the city to stock the food pantries – allowed for R.O.C.K. to provide food hampers to their friends.
"There's way more poverty in Chatham-Kent than we would realize," said Geniole. "And when the community pitches, in that makes a big difference."
Another notable achievement for R.O.C.K. over the year was its ability to get incorporated under the United Way umbrella. Now it is one step closer to becoming a registered charity, which will allow the volunteers to receive additional donations and expand their work.
Parker is hoping the next 12 months will bring in even more volunteers, and encourages anyone who wants to help to reach out to United Way.