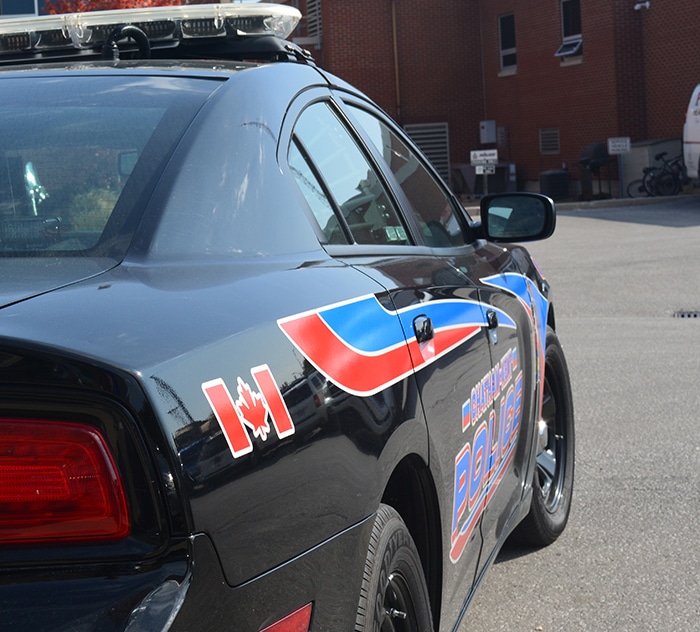 Roadside arson
Shortly after 12 p.m. yesterday, Chatham-Kent police say a man was spotted in the area of St. Clair Road near Spurgeon Lane lighting a small fire in the ditch with dead leaves and grass. 
The fire began to spread through the dead grass towards a wheat field, but was contained in time by someone passing by.
Police say the man continued walking but started two more small fires, which were extinguished by a nearby farmer.
The man was arrested on St. Clair Road between Eberts Line and Brook Line. 
Skyler Short, 18, of Walpole Island, was charged with arson.    
Man arrested for his own safety
Yesterday morning, just before 10 a.m., police responded to the report of a suspicious man in the area of McKinnon Drive in Chatham.  
Officers located a man yelling at traffic while running out onto Keil Drive. 
The officers attempted to talk to the man in an effort to calm his behaviour.  The man refused to comply, police say, and continued yelling and running without taking traffic into consideration. 
For his own safety, the man was taken into custody, police say. 
A 25-year-old man of no fixed address was charged with causing a disturbance.  
Mischief 
Yesterday morning, police responded to a mischief complaint at a property on Richmond Street in Chatham. 
Through investigation, police learned that a man threw a rock causing a window to break.
Officers located the suspect a short distance away and he was arrested.  
Caleb Matthewson, 24, of no fixed address, was charged with mischief under $5,000.  
No license
Yesterday afternoon, an officer on general patrol observed the man driving a van on Park Avenue West in Chatham.  
A query of the license plates revealed that they were expired and not authorized for that vehicle.
The officer initiated a traffic stop and learned that the man did not have a license nor was the vehicle insured.
A 43-year-old Essex man was charged with using license plates not authorized for the vehicle, driving with no license and operating a motor vehicle with no insurance.   
The license plates were seized and the vehicle was towed from the roadway.
Four-car collision 
Around 4 p.m. yesterday afternoon, police responded to a four-vehicle collision on Grand Avenue East near Prince Albert Road.
No one was injured. 
The driver at fault was charged with careless driving.