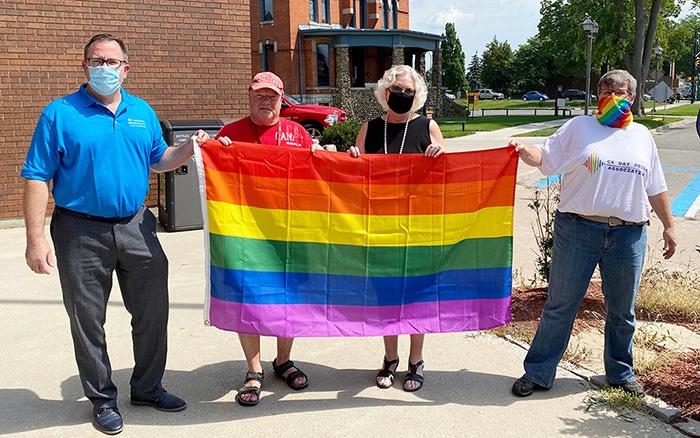 Pride Week 2020 began in Chatham-Kent \with a flag raising at the Chatham-Kent Civic Centre.
Marianne Willson of CKPride said the annual event has been altered due to COVID-19 but the reasons behind it remain the same, to acknowledge and provide encouragement and support to the LGBTQ community.
"Although we cancelled the parade and Pride in the Park Festival due to health concerns, we wanted to be able to celebrate in an appropriate manner," she said in a media release.
After conferring with public health, police and fire officials, the group will hold a Pride Week bonfire at Friday 8:30 p.m. at a rural address near Blenheim.
Social distancing will be required at the event.
There will also be a virtual church service held on Sunday at 10:30 a.m. via Facebook Live in collaboration with St. Andrew's United Church.
Throughout the week, Willson said people are encouraged to share pictures and videos in support of CK Pride through social media, using the hashtag #ShareYourPrideCK.
Mayor Darrin Canniff said flying the rainbow flag emphasises the fact that Chatham-Kent is an inclusive community. 
"We want everyone to feel at home and comfortable in Chatham-Kent," he said.