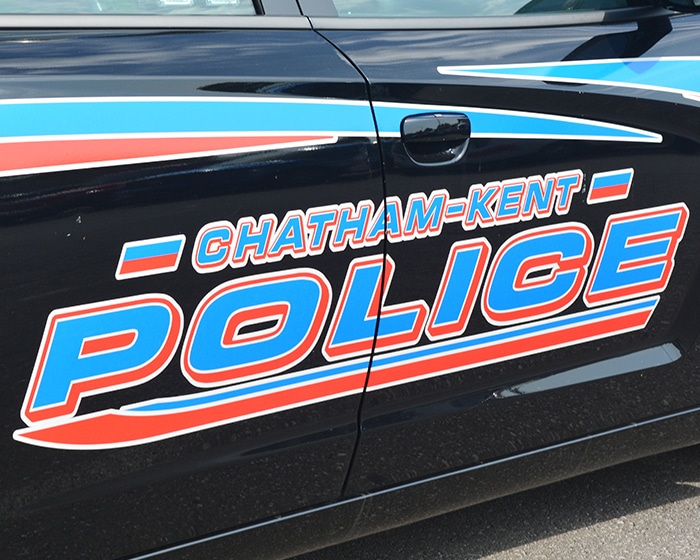 Assault
An early morning complaint led to assault charges in Wallaceburg this morning.
Police say officers responded to a 1 a.m. call.
The accused was asked to leave the residence by the victim and he took exception to this request.  He proceeded to punch the victim in the face and left the residence, police say.
Officers found the suspect and charged him with assault.
Domestic incident           
Police have arrested a man following an investigation regarding domestic violence.
On Thursday, around 11:00 a.m., the man and his ex-girlfriend became engaged in an argument, police say. 
The incident escalated to the point that the man threw a beer can and an ice cap at the victim.
When the victim was attempting to leave the residence, police say the man proceeded to utter threats and was charged accordingly. 
A 23-year-old man faces two counts of assault and one of uttering threats.
Man drives into garbage pan; charged with impaired
Chatham-Kent police arrested a man for impaired driving after a citizen reported a traffic complaint.
At approximately 8 p.m., police got the call, learning someone had driven into a garbage can. Officers tracked down the suspect vehicle and pulled it over.
Police say investigation led the officer to believe the driver was impaired.
 The man was transported to police headquarters for further breath tests.
A 73-year-old Chatham man is charged with impaired driving and failure or refusal to comply with a demand.
Break and enter
Police are looking for information regarding a break and enter on Fargo Road in Harwich Township.
Sometime overnight, someone broke a window to gain entry in one of the outside buildings. As well, the front plexiglass windows on a storage barn were kicked in.  It is unknown at this time if anything was taken.
Anyone with information is asked to contact Cons. Chris Reynolds at 519-436-6600 ext. 107337 or Chrisre@chatham-kent.ca. Anonymous callers may call Crime Stoppers at 1-800-222-TIPS (8477) any may be eligible for a cash reward.
Comments
comments