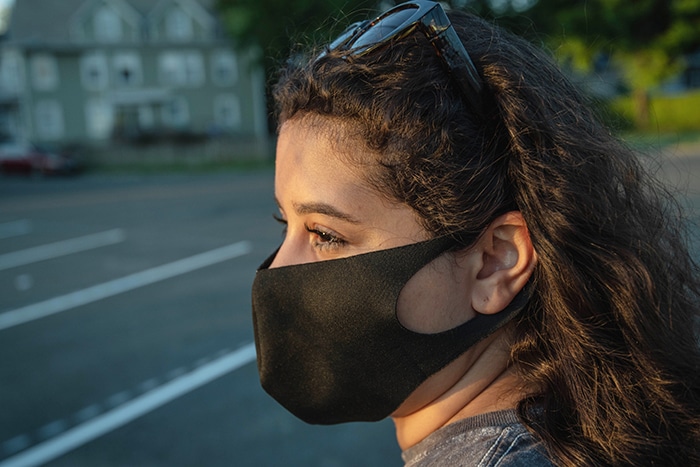 By Jenna Cocullo, Local Journalism Initiative
Chatham-Kent councillors polled by The Chatham Voice are divided on where they fall in the mandatory mask debate. 
But two things that they can all agree on is they are not medical experts and are frustrated the topic will come before council.
Mandatory masks will be discussed at this Monday night's council meeting. A motion to implement a mandatory mask bylaw could be put on the table with a two-thirds vote. Only a majority vote would be needed for a bylaw to pass if it is put on the table.
"It's incredibly frustrating that this was put in the hands of the council in the first place," said South Kent Coun. Trevor Thompson.
He said his personal preference would be to have mandatory masks, however, he won't be bringing his viewpoints to council.
"We should lean on our medical officer of health just like we lean on engineers and staff for other decisions."
West Kent councillors Melissa Harrigan and Mark Authier both support the notion of masks, especially with increased cases in their ward.
"COVID-19 is definitely in my ward. So I would vote in favour (of mandatory masks)," Authier said.
Dr. David Colby, Chatham-Kent's medical officer of health previously said cases are likely to be higher in western Chatham-Kent given that there is a lot of "leakage" from Windsor-Essex's agricultural sector immediately to the west.
Authier said a petition has circulated in his ward, separate from the one coming to council, to make masks mandatory. The councillor has been hearing a lot of pro-mask support from his western constituents.
READ MORE:  Mask petition sent to council; mayor stands behind Colby
"I've heard mostly from the ones that want the masks, which is always the way. And on social media I'm seeing a lot more people who would like them than not like them," Authier said.
He added he is frustrated that the mask discussion, and a potential decision, would fall in the hands of council.  
"My wonder is why the other (public health units) seem to be implementing masks and we aren't. I don't like the fact that the council has to make the decision when we aren't doctors," he said.
Authier said there are a few organizations in his ward (which he chose not to name for privacy) which have cases of COVID-19 and are not respecting the social-distancing rules.
"I can't understand why we haven't been asked to wear them. We're not making them wear masks, yet they aren't doing the six feet of social distancing. And why aren't we fining them," he said.
Harrigan said that she respects Dr. Colby and his evidence-based approach in enacting orders, however, she sees universal masking as a reminder that we are still in a pandemic and another reassurance where social distancing cannot be followed.
North Kent councillors Jamie McGrail and Joe Faas said they have been hearing both sides of the argument from their constituents, but at the end of the day admit they are not the medical experts. 
"I have no medical experience and I believe that Colby is a professional and it is his call with what should and shouldn't take place," Faas said. "I don't think that we need to politicize a medical issue." 
At a press briefing on Thursday, Colby told reporters that while there's "excellent evidence" that medical grade masks are very effective, the data on cloth masks  is "very murky. 
"I think I would hesitate to recommend something that there really isn't a lot of evidence to support it that is robust," Colby said. "They may be good at containing large droplets if people are coughing and sneezing. But I don't want people that are coughing and sneezing out in the community anyway." 
Another concern for residents, however, is that citizens in neighbouring municipalities are coming to shop in Chatham-Kent.
McGrail said she received one e-mail from residents in Windsor-Essex who said they come specifically to Chatham-Kent to shop because there is no mandatory mask order. 
"There are still definitely some questions that need to be answered, like where these cases are coming from. I'm not convinced yet, but I'm not not convinced," she said.
South Kent Coun. Mary Clare Latimer plans on asking Public Health to increase campaign efforts to educate the public around proper social distancing and how to properly use personal protective equipment.
Latimer said she agrees with the advice Colby has given to date, adding that cases have been increasing in Chatham-Kent because people are not maintaining physical distancing standards. 
Chatham Coun. Brock McGregor, who also sits on the Board of Health, echoed Latimer's comments, but thinks mandatory masks are "one more tool in the tool box" when it comes to COVID-19 prevention.
McGregor said he will be taking direction from the Association of Local Public Health Agencies which took the position that masks should be mandatory province-wide.
In regard to the argument that mandatory masks take away individual freedoms, Thompson said that should not be a concern. He thinks the public should have the freedom to go out without getting sick.
"Freedom comes with certain expectations and requirements. I'm not interested in freedom from responsibilities," he said. "I'm not interested in that debate. It holds no weight." 
The mayor has previously stated he will stand behind Colby and does not want to politicize the issue. 
"I think it is most important that kindness remains a priority during these unprecedented times," Harrigan said.
Comments
comments
« Local Legions, non-profits have access to COVID funding Coun. Bondy under fire from Integrity Commissioner »