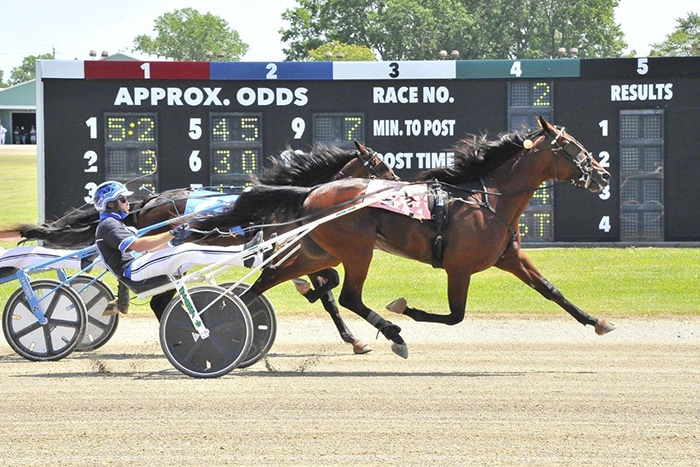 One week after making their debut in the Ontario Sires Stakes winner's circle, two-year-old trotting colts Stonebridge Armour, Tymal Chrome and Arch Hall collected their second provincial victories on Monday as Dresden Raceway hosted a trio of $22,000 Grassroots divisions.
Fan favourite Stonebridge Armour opened the Grassroots action with a gate-to-wire effort from Post 5, cruising home a three and one-half length winner in 2:04.1. Lovin Life Hanover finished second and Showme Some Muscle was third in the $22,800 test.
With wins in both of his Grassroots starts Stonebridge Armour currently sits third in the freshman trotting colt standings with 100 points.
Tymal Chrome earned his second Grassroots win with a gritty first-over trip, reeling in pacesetter Daylon Midnight and advancing down the stretch to a one length victory in 2:04.4. Doro Sogno tracked fan favourite Tymal Chrome from start to finish to secure the runner-up's share of the $22,450 purse and Diehard Seelster rounded out the top three.
Division leader Arch Hall delivered his second Grassroots win off a pocket trip behind early pacesetter Insanity, who rang up fractions of :30 and 1:01.2 before being collared by Arch Hall heading by the 1:33 three-quarters. Once he was in command, fan favourite Arch Hall sailed home to a two and three-quarter length win in 2:03.1. Insanity settled for second with Willywin well back in third.
Dresden Raceway also hosted a pair of $7,000 Prospect Series divisions for the three-year-old trotting colts on Monday.
Los Ballykeelamigo scored his second Prospect Series win with a gate-to-wire effort from Post 5 in the first division. The Amigo Hall son and driver Tyler Borth bested fan favourites The Reins Of Titan and driver Brett MacDonald and local colt Magnitude Ten and driver John Sullivan with the 2:02.4 effort. C
The second Prospect Series division saw pacesetting Northern Flame hang on for a neck victory over fan favourite Royal Jewels in 2:05.3. Goaltender rounded out the top three. 
Comments
comments