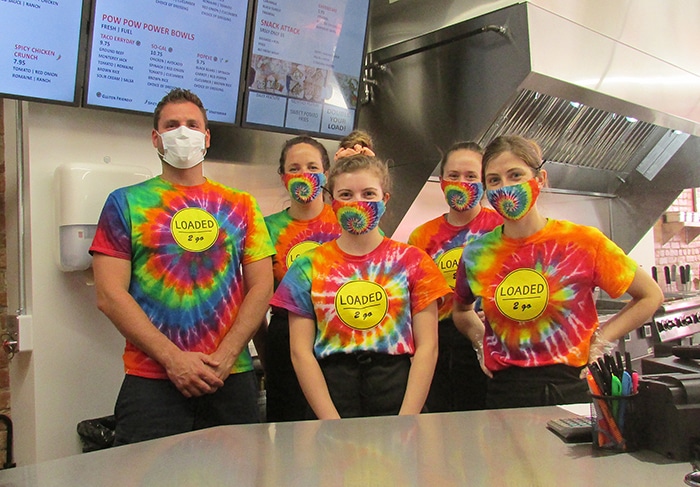 By Bruce Corcoran
Optimism can be found in many different commercial locations and in numerous ways in Chatham-Kent these days, despite COVID-19.
In the west end of downtown Chatham, a new restaurant opened recently. Loaded 2 Go has had its patio running for about a month now, and it's interior seats are available in a limited format.
Owner Pete Tsirimbis said the restaurant's concept is to grab and go, and the initial plan was to pander to downtown business owners and employees, municipal staff out to grab a quick bite, and students from nearby Ursuline College Chatham to do the same.
But COVID-19 has not made all that happen just yet.
Tsirimbis, who also manages Retro Suites and The Chilled Cork, said the initial goal was for Loaded 2 Go to open in March, but COVID-19 restrictions delayed its opening.
"And then everything turned to be takeout, delivery and things of that nature. This business, actually, because it's grab and go, is sort of a natural fit," he said.
Tsirimbis said he and his wife Jess own the building in which Loaded 2 Go is located, and which also hosts Barrypatch Collectibles. Extensive renovations began about three years ago, and three storefronts became two, with two executive apartments on the second floor.
"We worked with the heritage committee to make sure we were on point," he said of the renovation effort. "This building is early 1930s or late 1920s. I wanted to maintain that character. Chatham has a beautiful downtown and I think it's important that we are stewards of these buildings."
As for opening with limited seating and uncertainty during the pandemic, Tsirimbis said it actually made sense.
"Leaving it closed wasn't paying any bills. At least now we've hired back a team of seven or eight. They're young professionals and they're having a great time. The vibe is fun and funky," he said.
Response, he added, has been positive, as fresh-made, build-your-own options are appealing.
"People always like trying something new. We do have fresh options, we have lots of different creations and a section called Get Loaded, where essentially you can pick your base toppings, vegetables, proteins and whatever else you want. It's the ultimate modification location," he said.
Barb Anderson, owner of Barrypatch for the past 26 years, said having the restaurant open up has helped her business, as added walk-by traffic had led to people stopping in to browse.
"It brings people down here. I was the only one in this block for two years," Anderson said.
She closed her business for nine weeks during the pandemic. After reopening, business has been solid.
"All my regulars are back. They want to shop, but they don't want to go where there's a lot of people. I've got a lot of great support. I'm blessed," she said.
Anderson said at the start of the pandemic and with the restrictions closing non-essential businesses, people gravitated to online shopping, supporting businesses many kilometres away from Chatham-Kent.
But the support for buy local, shop local is returning.
"I'm going to think it will happen. It's come my way now. I already had two other business owners in my store today and they said the same thing: people were at first buying online, but then they had an amazing July like I had," Anderson said.
To her, the difference is quality of service, and of product.
"I think you need personalized customer service. When you go online, you're not touching anything. You don't have a clue what you're getting. A lot of people say they got stuff, and it's junk," she said.
While Anderson is happy to be open again, Sarah Evans, owner of Antiquated Joys in Blenheim, has decided to keep her doors shut for now.
Since the beginning of the pandemic, Evans has offered online shopping, and she and her husband go out each evening to deliver items across Chatham-Kent to local purchasers.
That will continue for now.
"With Phase 3 kicking in, I know some expected us to open our doors as well. We were not mandated closed. We could have opened a while ago along with the other shops downtown," she said in a recent social media post. "It is a personal choice I am making."
Evans wishes her fellow local merchants who opted to open back up all the best.
"Personally, I need some more time to decide what my new normal will be. Going right back to doing things the way that we used to isn't sitting right, and quite honestly it won't be the same shopping experience many are used to. I'm not sure how I could sanitize the dog between pets," she joked, referring to her regular canine partner at the store, River.
Back on King Street in Chatham, hundreds of metres to the east of Barrypatch and Loaded 2 Go, the folks at Sons of Kent Brewing Co. are in the middle of putting up a patio of their own during the pandemic. While they erected a temporary patio that seats about 50 people, the brewery is in the later stages of finalizing their concrete pad patio.
Colin Chrysler, one of the four partners in the operation, said the patio idea has been in place for many months; years actually.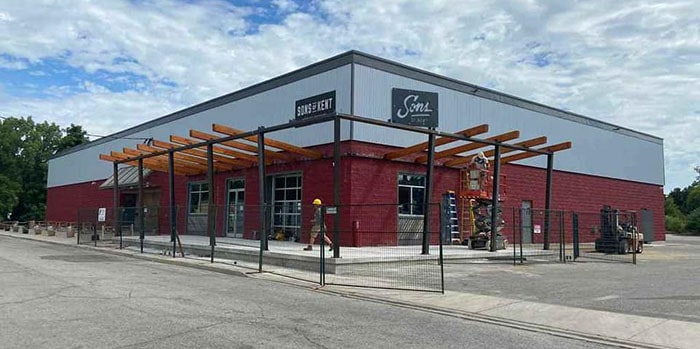 "It was always part of the plan to get this patio open," he said. "We had hoped to have it open last year, but ran into a few hiccups with permitting and utilities, just due to our location. How we wanted to build it just took a little longer."
Chrysler said the permanent patio is about a week or so away from completion.
He added the temporary patio has been decent for business, but had a rough start.
"The first couple of nights when we opened, the heavy rain just totally shut us down," he said.
But with the reopening of their spacious indoor taproom, Chrysler said if the rain or the heat drives patrons off the patio, there is a ready option in place.
Sons of Kent has enjoyed a decent summer in terms of beer sales, but on site kitchen sales and special events have been all but nonexistent. Offering curbside pickup for phone-in orders has proved the difference.
"We're grateful for all the community support. Having the beer-to-go component has been a lifesaver. We're kind of on pace for our normal summer production. The taproom/patio experience has been different, however," Chrysler said.
As for what the near future holds, he said he doesn't have a crystal ball.
"It's been tough to manage expectations during COVID. It's just so hard to know. Everything is a bit of an assumption. You just don't know what people want to do or what they feel safe doing," he said. "We're still kind of feeling out what the rest of the summer is going to look like. Every week gets a little busier than it was. We have limited capacity, but we need more staff with additional safety protocols in place."
Consistent beer sales in Chatham-Kent have been one element, but Sons of Kent in the past has enjoyed success in Sarnia and Windsor bars and restaurants as well. When those locations reopen, even in limited capacity, Chrysler said the brewery needs to be prepared.
"We also do a lot of business in Sarnia and Windsor. They're a bit behind us (in terms of provincially controlled stages of reopening). When they reopen, we will see added demand," he said. "But the gradual reopening gives us a bit more breathing room to anticipate."
Looking back west on King Street, Tsirimbis said he remains focused and committed to downtown Chatham.
"I was born and raised downtown, really. I worked in different buildings and different businesses. Obviously I am affiliated with Retro Suites and Chilled Cork. This (Loaded 2 Go) was sort of a natural fit. They're doing a nice thing down on this end. Our end (the Retro Suite block) is complete, so Jess and I thought we'd continue to pick away with the downtown core and help with the restoration process."
COVID-19 or otherwise, development, and optimism, continues in downtown Chatham.