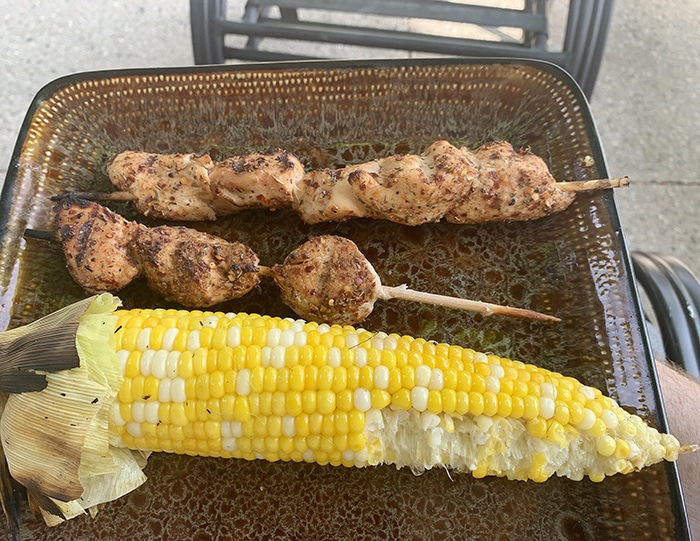 By Bruce Corcoran
Sad news on the barbecue front. Mary Beth only picked up a handful of jalapenos last week, and we used about half of them in an incredible chili she made, so no Atomic Buffalo Turds (stuffed jalapenos) last week.
But the Egg still did some heavy lifting in the heat. As my wife, Mary Beth, and daughter, Brenna, were nice and cool in the basement painting and drawing, I slipped out to pick up some chicken and shrimp kabobs for dinner on Saturday, to go with the local corn on the cob we had picked up a day earlier.
While snagging the meat, I went looking for Jamaican Jerk sauce, as I suddenly had a hankering for jerk chicken. Nice and spicy, with incredible flavour!
I was browsing Schinkels' and asked for assistance. Cory popped out and looked for sauce, but we both came up empty. But all was not lost, as he pointed me to a tin of Caribbean Jerk seasoning from Cape Herb & Spice.
I fired up the grill later that afternoon and started with the corn. We left it in the husk, let it soak for about 20 minutes, peeled back the husk in three sections, ripped out the silk, and then the magic started.
We replaced two thirds of the husk and then spooned in some melted butter and spices, before tying the husk in place.
The corn cooked for about 25 minutes, and I turned it every five minutes or so.
After that, I put on the shrimp and chicken, with two of the kabobs liberally dusted in the jerk seasoning.
The shrimp came off after about three minutes a side, while the chicken stayed on about five minutes longer.
The garlic shrimp was delicious, as was a cob of corn, but the jerk chicken was amazing (Mary found the marinated chicken just fine without it, however). I admittedly put a bit too much seasoning on, as I was testing it out, and it was a bit salty as a result, but the flavour was great.
A day later, at the home of friends Pete and Arlene, I dusted some chicken wings with the seasoning. Not so much this time. The result there was delicious. No need for sauce and some great flavour. Brenna, thinks the jerk seasoning may replace our favourite chicken seasoning, Tsunami Spin; it's that good.
Then just a few nights later, I got the nudge from my wife.
"You don't mind barbecuing in a bit, do you?"
Another warm evening, and I was a bit reluctant, but she had prepared potatoes and wanted me to cook some chicken breasts. On top of that, Mary Beth was making a cabbage salad with ramen noodle bits and a sesame dressing.
Out the back door I went to prep and light the Big Green Egg.
Another night of simple fare, but so tasty. We did the potatoes first, as they were cut into bite-sized pieces, and seasoned. Just before serving, we sprinkled parmesan cheese on top.
As for the chicken, it was barbecuer's choice in terms of seasoning. I opted for Tsunami Spin, as our daughter had a friend over who is not a spice specialist. 
The result was just enough spice to give it some life, with a little Fighting Cock barbecue sauce put on for good measure. The result was a delicious meal all around.
As for the outdoors, with a nice breeze rolling through, the shaded patio was quite comfortable.
But, no ABTs this week. Maybe this weekend instead. Perhaps more corn. Maybe an ABT pizza, something Brenna and I discussed. For that, we plan to slice up jalapenos, perhaps use an alfredo-like sauce, mozzarella, cheddar, and dollops of cream cheese, as well as bacon. It should have some amazing taste!