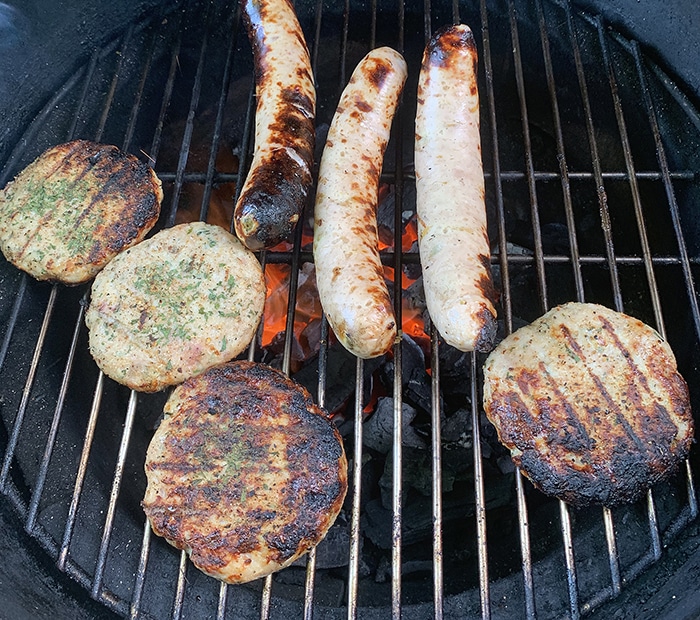 By Bruce Corcoran
As the summer grilling season continues at our home, the latest effort in simple meals came in the form of some chicken burgers from Schinkels' Gourmet Meats, as well as a new twist: jalapeno-mango chicken sausages.
When Brenna and I popped in to one of our "flavourite" meat shops on the weekend, the plan was to snag some more luncheon meat, some buns, and another meal option for this week. We naturally were immediately distracted by the spices and sauces (I can't help it), but picked up our luncheon meat at the first turn (essentially at Schinkels' you proceed around the rectangular store in a clockwise direction). Owner John Schinkels greeted us at the second turn and asked what our plans were for cooking.
I should note to newer readers that John (or Cory) and I can get lost in grilling conversations. Brenna and I explained we planned on grilling some chicken burgers and John was quick to point out a new product they are carrying, the jalapeno-mango chicken sausages. I'm not a huge chicken sausage guy, but when John speaks passionately about a particular product or cut of meat, I listen (his last encouragement was a prime cut of beef tenderloin that I fear we may never be able to replicate; it was that good).
John stated that he too is not a big chicken sausage fan, but said these won him over.
Intrigued, we left with three sausages to toss on the Big Green Egg when the chicken burgers went on.
I cooked them Monday night, with all three of the Corcorans hanging out in the backyard, enjoying the breeze, and the succulent smells of chicken, spices and lump charcoal.
I put the sausages on first, as I knew they'd take longer to cook, and they ultimately remained on there for a little longer afterwards as well.
We cooked everything at about 400 F, with the burgers coming off after about six minutes a side. Now, they may look a little singed when they're cooked that long, but really, they aren't any more crisped than beef burgers cooked about the same time. It just is more apparent with the lighter meat.
The sausages were on for about 25 minutes.
We all opted for chicken burgers to go with the kale salad Mary had prepared, but I added in a half a chicken sausage on a bun, letting the women each have a bite as well.
Mary was skeptical when we brought home the sausages.
"I'll try them…" was her response.
But after she bit off a piece, she admitted if she had a do-over, she'd have had a chicken sausage that night rather than a chicken burger, and we like those chicken burgers!
No problem, as sausages reheat well the next day. In fact, Mary loved the sausages so much, she took a sample over to her sister the next night.
Mary was worried the jalapenos (and you can see chunks of them in the sausage) would make them too hot for her palate, but they add just a touch of heat, while the mango gives a subtle bit of sweetness.
Add some Fighting Cock barbecue sauce, and you're in business.
On the menu for later this week, barbecued sweet corn and a return to the Atomic Buffalo Turds, or ABTs for short. Bacon-wrapped stuffed jalapenos! Heck, we might even take a crack at ABT pizza sometime too.
Comments
comments