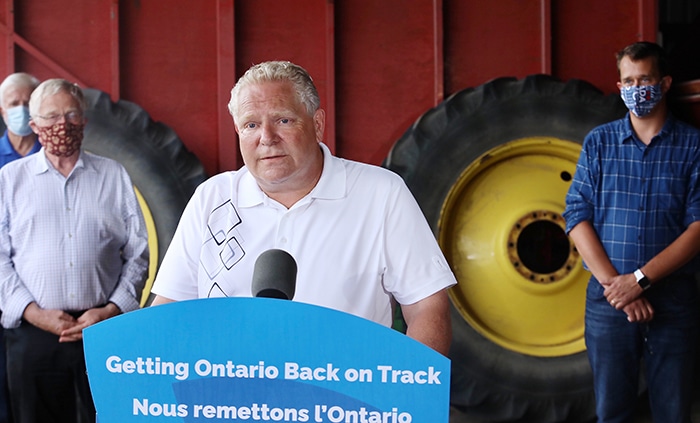 By Jenna Cocullo, Local Journalism Initiative
The provincial government is speeding up support for the agricultural sector.
On Thursday, Ontario Premier Doug Ford made his way to Chatham-Kent as part of his summer tour where he announced an additional $50 million in funding per year to the agricultural risk management program.
A total of $150 million will be spent annually on the program, which covers 80 per cent of eligible commercial production in the cattle, hog, sheep, veal, grains and oilseeds, as well as edible horticulture sectors.
"During this pandemic, dedicated farmers like the Craven family, have risen to the challenge to make sure food gets from farm to fork. This pandemic has been hard on all of us but especially difficult on our farmers," Ford said.
He made the announcement after taking a tour at Craven Farm, a multi-generational farm, in Chatham-Kent.
"When we sell below the cost of production, we can get an ad hoc payment to cover the rest of the costs" Neal Craven, owner of Craven Farm, explained.
Craven said farmers may have trouble getting their products to the market due to COVID-19 closures or unpredictable weather conditions.
Ford met with approximately 40 stakeholders in the local agricultural sector to answer questions, Craven said.
Migrant workers in the agricultural sector have been hit hard by COVID-19. Chatham-Kent makes up approximately 10 per cent of the migrant worker cases in Southwest Ontario.
Migrant worker advocates have asked senior levels of government to give workers permanent status on arrival to allow them to choose safer workplaces and help control the transmission of COVID-19. Some workers have reportedly been scared to get tested out of fear they will get deported or fired.
When asked if reform was needed to the migrant worker program or if he would support permanent status for workers, Ford said migrant farmers have the same rights as any other worker in Ontario. He did not address whether or not he would support permanent status upon arrival.
READ MORE: Greenhill outbreak over, but not the fight for migrant worker rights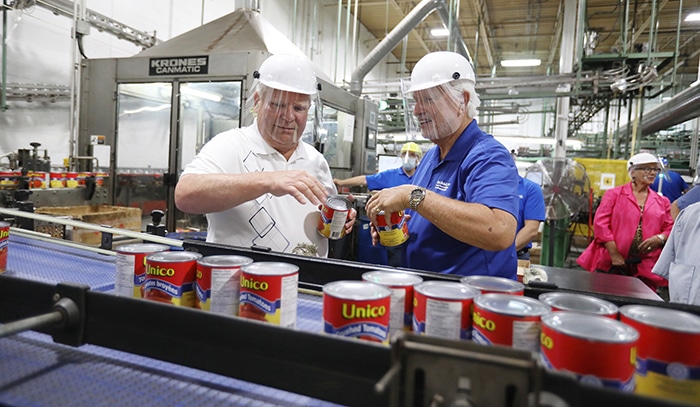 Ford also announced a "historic" agreement between the provincial and federal government to allocate $19 billion in COVID-19 relief funding. Seven billion will go toward Ontario.
"Canada's premiers stood shoulder to shoulder; we stayed together as a country," Ford said. "The federal government is stepping up and supporting Canadians when we need it the most."
The money will be used to support municipalities, expand transit and health-care systems, to stockpile personal protective equipment, and aid other services.
Ford thanked Ontario's mayors for their support during the negotiations.
Mayor Darrin Canniff also got an opportunity to speak to Ford about promoting the municipality and issues facing Chatham-Kent.
Canniff — who was one of many mayors to call out senior government to deliver more financial support to municipalities — said he was very pleased with the announcement and excited to see how the funds will trickle down to the municipality.
Earlier in the day, Ford also stopped at a barbershop in Leamington for a haircut. The premier had previously promised that he would not cut his hair until all provincial regions entered Stage 2 of reopening. Leamington and Kingsville were the last to make the transition, on July 7.
READ MORE:  Canniff, other Ontario mayors call for financial help
Comments
comments