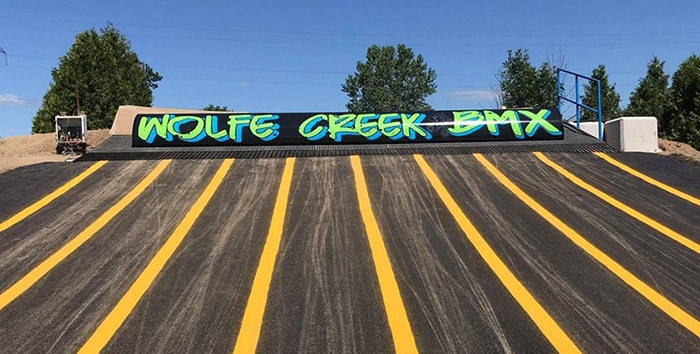 By Bruce Corcoran
How can your kids practise safe-distancing and burn off some energy during COVID-19 restrictions? At Wolfe Creek BMX's track.
Tom Maciejowski, president of the club, said the track, located just off Creek Road, reopened on Saturday.
Social-distancing guidelines are being closely followed, he added.
"We're restricting the track to only 10 riders at a time. Normally, we have 30-40," Maciejowski said. "We're also not doing racing, just practice. We're sending down two kids at a time, where we normally would do eight. They get a good way down the track and we release another two."
Participants also wear full helmets for protection in case of a crash, but Maciejowski said the full-face helmets also help provide additional protection against the potential spread of COVID-19.
Racers can't just show up and expect to get track time. Maciejowski said people can contact the club via e-mail at wolfecreekbmx@gmail.com, Facebook, or the group's website.
"You can reserve your time. You are there for an hour instead of two or three hours straight," he said. "Pick a time, with a second choice, so we can try and accommodate everybody."
The track is open twice a week – Wednesdays 4:30 p.m. to 8 p.m. and Saturdays from 10 a.m. to 1:30 p.m.
Wolfe Creek typically has about 50 members, but Maciejowski said there is room for more.
The track is well maintained, he added, as it is regularly groomed.
"We keep the track quite smooth. We use a dragger like ones used on baseball diamonds. We roll it and water it. That creates a firmer surface," Maciejowski explained.
Wolfe Creek BMX, operated by the Chatham Cycling Club since 2003, is a not-for-profit community club. The club is affiliated with BMX Canada, which is the governing body for most bicycle motocross in the nation.
According to Maciejowski, races at Wolfe Creek, when they eventually return, are organised according to age and skill level. Each child participates at their own pace and skill level, improving self-esteem, physical fitness and discipline.
The majority of the members are aged two to 16, with some parents who also ride.
There is a special class called Balance Bike for riders aged two to five.