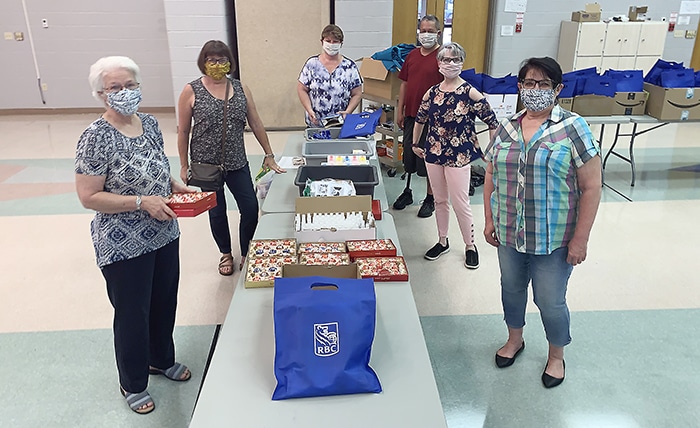 By Bruce Corcoran
The Active Lifestyle Centre (ALC) may be closed, but its staff and volunteers continue to reach out and deliver kindness to local seniors.
The ALC has been in operation since 1970 and provides programs and services for adults aged 50 and up in Chatham. Since the COVID-19 pandemic, the centre has had to close its doors to its more than 1,100 members, cutting off a key social element for many of them in the process.
On Thursday, volunteers and staff on layoff showed up to pack comfort bags that will go to many local seniors. The bags contained such items as masks, hand sanitizer and "goodies" designed to help seniors deal with the COVID-19 pandemic, and to reassure them people are thinking about them at this time.
As well, the ALC cooked up meals for front-line personnel in five local long-term-care homes as a way of saying thanks for their dedication.
Linda Lucas, executive director of the ALC, said the centre's staff have been incredible.
"The entire staff in this building are not even working today. As much as the front-line workers are, my staff are heroes too," she said. "They doing this as volunteers and are coming together with other organizations from the community."
The Chatham-Kent Lions Club donated $1,000 towards making the comfort bags and meal delivery possible. Funding also came in from the United Way and the ALC, Lucas said.
Support also arrived thanks to Nurse Next Door and the Chatham Retirement Resort.
Family Service Kent was involved as well, in helping with deliveries.
Jan Reinhardus, recreation co-ordinator with the ALC, said the comfort bags are going to area seniors who can use a little smile time.
"When we did wellness checks with our entire membership, we identified some of them who are lonely, isolated seniors," she said.
Jamie Foster, kitchen co-ordinator with the ALC, said the bags have been well received.
"They love it. The mask – they like the fact there's a mask. They're older and they aren't sure where to get a mask," he said. "Plus, they like the goodies."
Reinhardus said ALC personnel, through the checks, determined who would be most isolated.
"We knew there was quite a number of our members who were seniors who were living alone. They would be isolated and not have family members who would be able to visit. That's who we targeted first," she said of the bag deliveries. "From there, we just spread out to other places we knew who had seniors that could benefit as well."
From those initial wellness checks, Reinhardus said the effort to reach out to those seniors who need it most continues.
"We've identified people in our initial calls that we continue to call once a week. These people have no one who calls them," she said. "It is so important. We know a big component of this COVID isolation is depression."
Reinhardus said the therapy is two-way as well.
"The phone calls and conversations, we (staff) need it just as much as our members do," she said. "We just want our members to know we haven't forgotten them and we'd still be operational if all this madness didn't happen. We miss them as much as they miss us."
One ALC board member, Janette Ryckman, and a volunteer, Tracy Lewis, also sent out greeting cards to say "I'm thinking of you" to every ALC member, Reinhardus said.