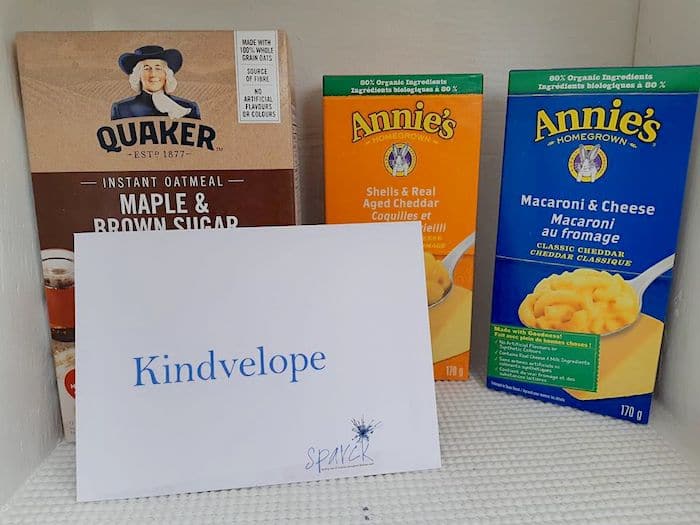 Jenna Cocullo, Local Journalism Initiative
If you were the recent recipient of a random "Kindvelope" showing up on your door step, thank … uh … well, we don't know exactly who to thank.
Since December 2019, two Chatham-Kent residents have been anonymously spreading kindness throughout the municipality. They call themselves "Sparck," and their family of volunteers "Sparcklers."
The idea is that kindness does not discriminate, they told the Chatham Voice.
"It doesn't matter your gender, race or age. Everyone deserves kindness," they said.
The man and the woman, who have been living in Chatham-Kent for nearly 30 years, have been buying gift cards and stuffing them in what they call a Kindvelope, along with a message. The duo and its Sparcklers then pick four households at random to drop them off to.
"It was a creative way to spread kindness to the community because we believe that a kind community is a thriving community," they said.
Sometimes they go to a store and ask the managers to hand them out to a customer at random, then the recipient of the first Kindvelope must give the second one to a stranger. Sometimes the Kindvelopes are left in a public place for the first person that comes across it.
"My partner and I have enjoyed lending a helping hand to others. And we thought about how we can transform this passion into something bigger for a wider audience," said the man.
The duo decided right from the get-go that it wanted to remain anonymous for as long as it can. The two said getting recognition defeats the purpose of their mission.
The name Sparck came from the idea that they wanted to "ignite" acts of kindness across Chatham-Kent. And of course, they just had to spell it with a 'ck.'
Shortly after they began their grassroots initiative, the COVID-19 pandemic hit. Now Sparck is secretly stocking the Little Free Pantries found around town – an initiative started by a group of students in 2017 .
READ MORE:  Little Free Pantry initiative becomes reality
"We did our first drop off a few weeks ago. I had just been driving around Chatham-Kent and noticed one of them and had seen them in the past," said the man. "We thought, hey that is a great way to contribute to the community during this really tough time."
They are also collaborating with the Chatham-Kent Prosperity Roundtable, a group that helps reduce poverty in the municipality, by creating a visual map for the community pinpointing where the food pantries are located.
Sparck said what will define what a community is when it goes through hardships, that will break or make it. In their eyes, Chatham-Kent has "time and time again proven we are strong".
"We love our community. It's absolutely amazing. We're so saturated with kindness, we're constantly amazed and in awe," they said.