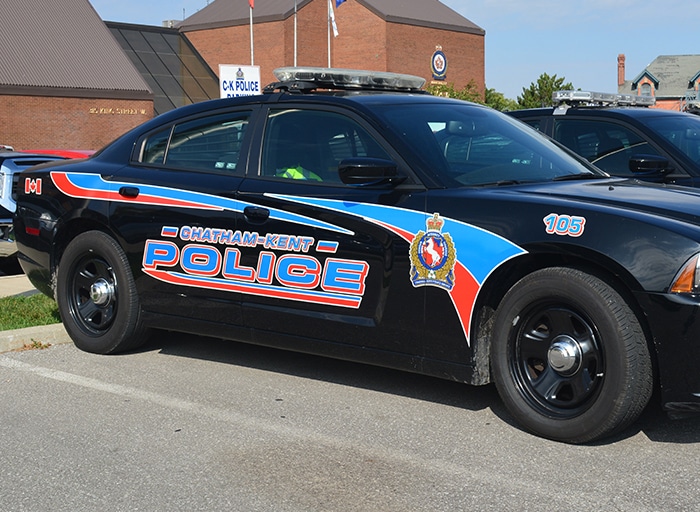 Impaired charges 
Last night, police received information that a van was driving through fields near Whitebread Line.
Prior to police arrival, officers learned that the van had been involved in a roll over collision on Langstaff Line.
Officers located the driver at a nearby residence.  He was transported to hospital for medical attention and released.
Through investigation, the officer believed the man was driving while under the influence of alcohol.  The man was arrested, however refused to provide any breath tests.
A 31-year-old Walpole Island man has been charged with impaired driving, refusing to provide a breath sample and dangerous driving.
Stolen vehicle recovered
Shortly after 5 a.m. this morning, an officer on general patrol located a stolen vehicle from London in an alleyway connecting Gray Street and Lorne Avenue.
The man in the driver's seat was arrested and upon being searched incident to arrest, was found to be in possession of stolen identification.
A 34-year-old Chatham man has been charged with two counts of being in possession of property obtained by a crime under $5,000.
Man charged with theft
Yesterday morning, police responded to a theft from vehicle that occurred overnight.
Through investigation, police learned that the man had used the victim's credit card at various locations in Chatham.
Officers identified the man they believe is responsible and he was arrested.
He was also arrested on two outstanding warrants for similar offences. Upon being searched incident to arrest, the man was found to be in possession of suspected fentanyl.
Christopher Heeley, 27, of Chatham, has been charged with property and fraud-related offences, failing to comply with his release conditions and drug possession.
Comments
comments