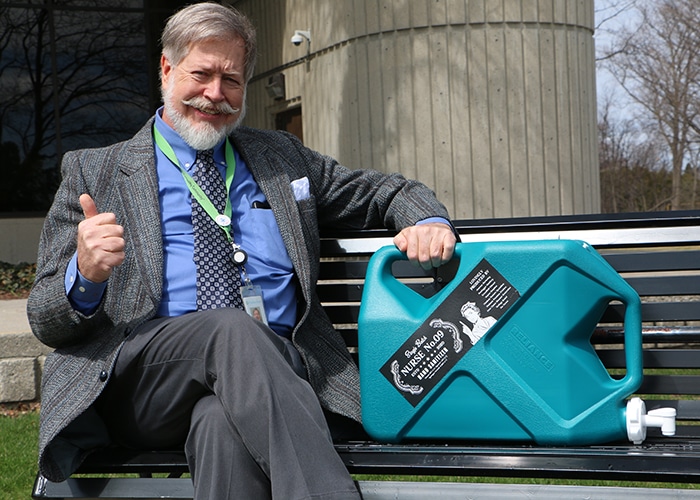 C-K medical officer of health Dr. David Colby shows off a shipment of Nurse No. 9, a hand sanitizer made with Greenfield Global ethanol.
Jenna Cocullo, Local Journalism Initiative
Health Canada is temporarily authorizing the use of technical-grade ethanol, on a case-by-case basis, for the production of hand sanitizer in an effort to relieve pressure from companies who are facing raw material shortages.
Greenfield Global, Canada's largest producer of ethanol with their flagship plant in Chatham-Kent, was key in leading the effort to get the short-term changes.
The plant in Chatham-Kent is a major source for United States Pharmacopeia (USP) ethanol with which hand sanitizers are normally made.
However, with short supply on demand, John Wilkinson, a member on Greenfield's board of directors, said that grade is now needed for products with no alternative substitutions, such as children's cough syrups or hand sanitizer that has to be fragrance free.
"The ability to have this other supply going into hand sanitizers, really takes the pressure off the Chatham plant. This is really going to help address this looming shortage of USP alcohol around the world and make sure that Canada is protected from that," he said.
In mid-March, there was a sevenfold increase in the sale of hand sanitizer compared to the same one-week period in 2019, according to data from Statistics Canada, leading to shortages such as USP or food grade ethanol.
"The solution was not to get rid of demand – other than hopefully one day this pandemic is going to pass and that's going to help – it's to free up supply, and so what we were able to do is figure out a way to free up that supply for Canadian," he said.
Normally, the process to change regulations takes up to 18 months. Greenfield was able to move quickly in changing regulations because they have in-house laboratory capacity to test different types of alcohol to determine which are the closest to regular standards, and provided Health Canada with its quality-control testing and market research.
"But that decision was ultimately Health Canada's to make and honestly we're delighted with their decision. It's the first time that's happened in Canada, maybe even in North America, " Wilkinson said.
Technical-grade ethanol has more impurities such as acetaldehyde, an organic chemical compound, which is also found in alcohol, food and cosmetics. Like most health products, hand sanitizers containing acetaldehyde can pose health risks if used more frequently and for a longer period than directed.
"Health Canada has assessed the risks and benefits of hand sanitizers containing technical-grade ethanol and has concluded that, when used as directed and for a short period, the public health benefit to limit the spread of COVID-19 outweighs the risks. Based on its risk assessment, Health Canada is taking action immediately to ensure the safety of these products," Health Canada officials said.
The newly relaxed rules will be revoked as soon USP- or food-grade ethanol can be produced in sufficient quantities to meet increased demand.
The Chatham-Kent facility, which is operating at maximum capacity producing specialty alcohols, will continue making USP-grade alcohol while the other Greenfield plants have already begun to increase their demand of technical-grade alcohol, Wilkinson said.
Labelling requirements have also been tightened for manufacturers that use technical-grade ethanol in their hand sanitizers. They must provide additional information on their product labels to support the safe use of these products which includes:
Clearly indicating that technical-grade ethanol is included as an ingredient;
Specific directions for use and warnings that these products are intended for adult use only, that they should not be used on broken or damaged skin, that they should not be used by women who are pregnant or breastfeeding, and that they should not be inhaled; and,
Information on how to report any adverse reactions to Health Canada.
Health Canada reminds Canadians that the best way to limit the spread of COVID-19 is by washing your hands frequently with soap and water for a minimum of 20 seconds, and to use an alcohol-based hand sanitizer, with at least 60-per-cent alcohol when hand-washing is not possible.
Comments
comments