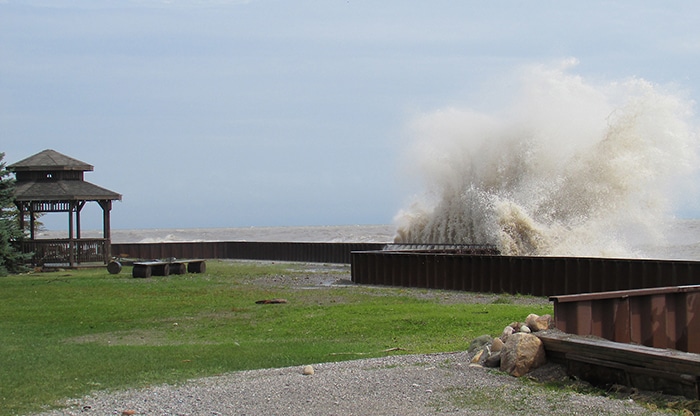 Municipal officials are asking the public to not drive down to Erie Shore Drive if they aren't a resident or aren't there to help the residents directly.
"Individuals who don't live on Erie Shore Drive or are not involved in helping residents move are requested to avoid the area due to possible issues with congestion," according to a Municipality of Chatham-Kent press release. "Chatham-Kent Police are monitoring the situation."
The municipality has urged all residents within the soon-to-be closed section of the road from Erieau Road to 18416 Erie Shore Dr. to evacuate their homes.
Chatham-Kent Council Monday unanimously voted to close a portion of the roadway effective March 9 due to the elevated possibility of failure of a portion of Erie Shore Drive dike.
Free moving boxes remain available at the Erieau Fire Hall from 10 a.m. to six p.m.
More than 75 volunteers have registered with the municipality to assist residents in moving their belongings from the affected homes, among other things.
Volunteers' contact information is being given to Erie Shore Drive residents who request it. Residents will contact volunteers directly.
Volunteers may contact the municipality at 519-360-1998 or by e-mailing customer service at ckinfo@chatham-kent.ca with what services they can offer.
Residents seeking information on how the Erie Shore Road dike emergency may affect them should call the municipality at 519-360-1998 from 8:30 a.m. to 4:30 p.m. This number will also be staffed Saturday and Sunday from 8 a.m. to 6 p.m.
Residents who require emergency accommodation can call the Chatham-Kent Homeless Response Line at 519-354-6628 if calling later than the hours listed above. They should advise that they currently live on Erie Shore Drive.
Overnight callers with a non-urgent or non-housing matter should still call the 519 360-1998 and leave a message and contact information. Calls will be returned as soon as possible.
If you believe you are in an emergency, call 9-1-1 for immediate assistance.