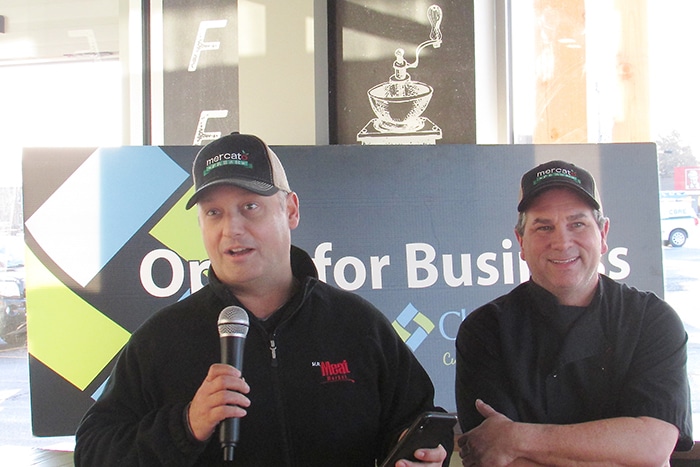 Marc Romualdi and Jonathan Reaume are exhausted, but sporting broad smiles these days.
The fatigue came from all the last-minute efforts to ensure their store, Mercato Fresh, was ready for its opening to the public last week on Grand Avenue in Chatham.
The smiles were due to the warm reception they received. People poured into the store, located in the former Target building in the ThamesLea Plaza, on opening day Feb. 13, and others flocked to the company's website to check out the specials. The latter group actually crashed the site for a time.
"We're humbled to serve the people of Chatham-Kent," Romualdi said at the Feb. 14 official opening event.
Chatham-Kent Mayor Darrin Canniff said he wasn't surprised to see the interest from local residents.
"I knew Chatham-Kent would embrace this store. We're a growing community excited to have you," he said to Reaume and Romualdi.
The support from the community from the start has Romualdi confident he and Reaume made the right choice to begin here.
"We felt the love from Chatham-Kent early on. This response, I've never felt it like this in any other market I've been in," he said.
Reaume said he and his business partner are happy to be open and believe they chose the right community in which to begin their business history together.
"This will always be our first store," he said.
Romualdi added he believes the public will appreciate the quality, price and service – all of which he said are equally important – offered at Mercato Fresh.
Romualdi is the owner of M.R. Meats in Windsor. He has brought the selection and prices with him to Mercato.
The store features fresh-cut meat, cold cuts, dairy products, an in-store bakery, a hot food counter that includes soup made on site from scratch, sushi, and a selection of packaged foods.