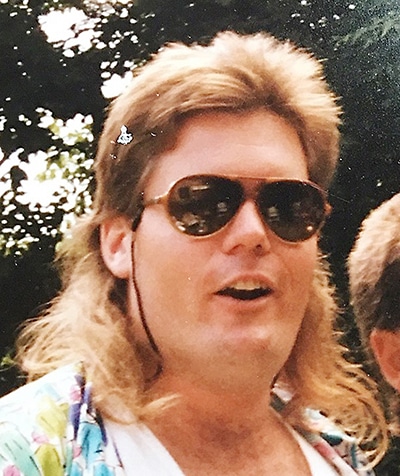 For folks who remember me from when I first moved to Chatham-Kent, I had a mullet.
Yes, that 1980s haircut that said "business in the front, party in the back."
Not long after our daughter's arrival and penchant for grabbing onto my longer hair to give it a tug or 10, I opted to chop it all off. That was nearly 17 years ago.
But, maybe, just maybe, I'm bringing the look back. Briefly.
Or perhaps I will look like Flock of Seagulls lead singer Michael Score with his wild, wavy hair from back in the 1980s. Google the band's name and "I Ran," the band's biggest hit, and you will see.
Maybe it will wind up wavy, cropped short at the back and long in the front, crimped in 1980s hair band style, or even in a punk rock Mohawk, I honestly don't know.
I won't have a say in it.
You, however, will.
I'm working with the good folks at the Chatham-Kent Children's Treatment Centre to help fundraise for their annual Festival of Giving funfest in April. This year's theme is "I Want my FoG TV," an ode to the early days of music videos on MTV.
Between now and the festival, April 18, I am not cutting my hair. That will allow it to grow out to be shaped into whatever hairstyle is decided upon.
Again, we are in the early planning stages, but the idea is to set it up so people can donate to the Children's Treatment Centre and vote for your favourite hairstyle for me.
It might not be pretty, but then again, maybe it will be.
I must thank the women in the office at The Chatham Voice, as they told me that I'm not allowed to cut my hair between now and Festival. The only problem is I already need a haircut. I will get a bit shaggy over the next three months.
At first, the staff here just thought about me bringing back my mullet, but this is expanding.
Stay tuned to this column in the coming weeks. We'll offer up selections of me in various hairstyles and will provide more information on how to vote and support the treatment centre.
Naturally, I'd be most at home in a mullet, which is exactly the reason I don't expect to have one for Festival. I have a feeling people will want to see me far out of my comfort zone.
And, I'm a bit worried. Once I discussed my idea with Mike Genge, the executive director of the Foundation for the Children's Treatment Centre of Chatham-Kent, I could see in his eyes he was already planning ahead. And when he starts planning, crazy things can happen.
Worst-case scenario is I have a ridiculous haircut for a few days. It's all for a great cause.
I urge our readers to help guide this course as we release more details.
Finn helps(?)
As you know, our cat is an ingrained part of our family; it's just like having another kid, albeit a small and very furry one.
He was up to his typical antics recently. We spent Friday evening of a recent weekend over at the house of our friends Pete and Arlene, having dinner and just hanging out.
As an aside, I must say if you haven't watched the TV show BattleBots before, you must give it a try. Some very excited folks are involved in the making of some very interesting wheeled battle robots.
For us, it was hilarious. Think pro wrestling meets robotics.
Anyway, back to Finn. We get home after 11 p.m. to a cat that wants out (no surprise), so out the door he goes.
For the night.
And the next day.
There's no sign of Finn by late afternoon. Just as we start to worry, who shows up at the back door? Finn.
No idea where he spent the day, but he must have been comfortable.
At times for the rest of the weekend, he camped out on me, Mary Beth or on Brenna's study materials. He likes to do that with Brenna, as he forces her to give him attention.
Only on the weekend, she was studying for exams. He just wanted to give her a break. In fact, he started gnawing on some of her review pages.
And to make sure she was wide awake Monday morning prior to her chemistry exam, Finn chased her down the hallway, nipping at her Achilles' tendons all the way.
What a nice guy!
This took place after he tried to trip me by getting in my way as I stumbled down the same hallway.
Through it all, he purred contentedly.
Friend or fiendish foe? Or just a typical cat? Hmmm.
Comments
comments