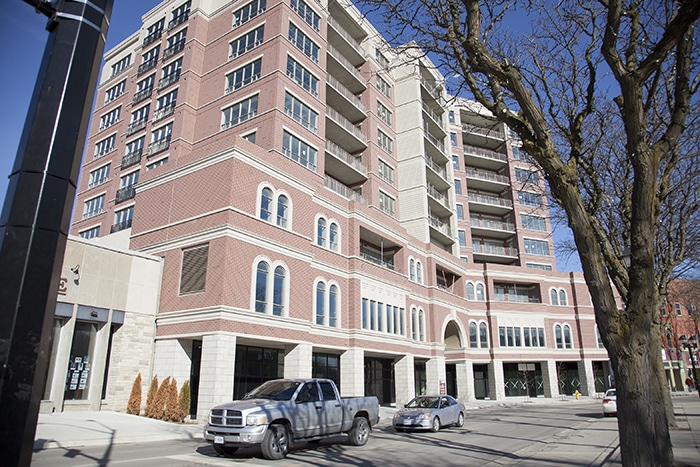 At least one Chatham-Kent councillor is at odds with the municipality and a local developer.
Michael Bondy is frustrated with what he said is a lack of timely progress on the Boardwalk on Thames project in downtown Chatham.
The condo-turned-apartment building saw construction begin a decade ago, yet remains an incomplete and uninhabited shell.
Bondy said he has requested more information about the project and meets a brick wall.
"I have asked about this condo thing before and I never get anywhere, other than the promise of a due date," he said. "I'm not getting anywhere. It's not that people aren't doing their job. The problem is the public is coming to me constantly, for years, asking what we are going to do about this. My answer is 'nothing.'"
Bondy said Victor Boutin of Everlast Group, the developer behind the project, has been given too much control and too little timeline.
For years, a portion of King Street was partially closed in front of the condo to allow for access of construction vehicles and supplies.
The back laneway, Simcoe Lane, remained closed off as of Monday afternoon.
"I don't think a guy who holds a building permit can hold a municipality hostage for 10 years," Bondy said. "There's just a level of frustration. Let's get to the bottom of this. He's got the downtown on life support."
Boutin has not returned requests for comment by this newspaper.
In previous articles, Boutin has stated he gives priority to quality over timeliness in terms of completion of the $50 million, 88-unit project.
The most recent announced completion date for the Boardwalk project was to be last summer. Now, municipal officials are hopeful it will be sometime this year.
"In downtown Toronto, they build 45-storey condos in 18 months. I don't buy the excuses," Bondy said.
In the future, Bondy believes building permits should be issued with expected completion dates attached.
"I believe the municipality has to have some sort of tool to deal with this," he said. "I really believe it has crippled our downtown. It was supposed to be a big driver."