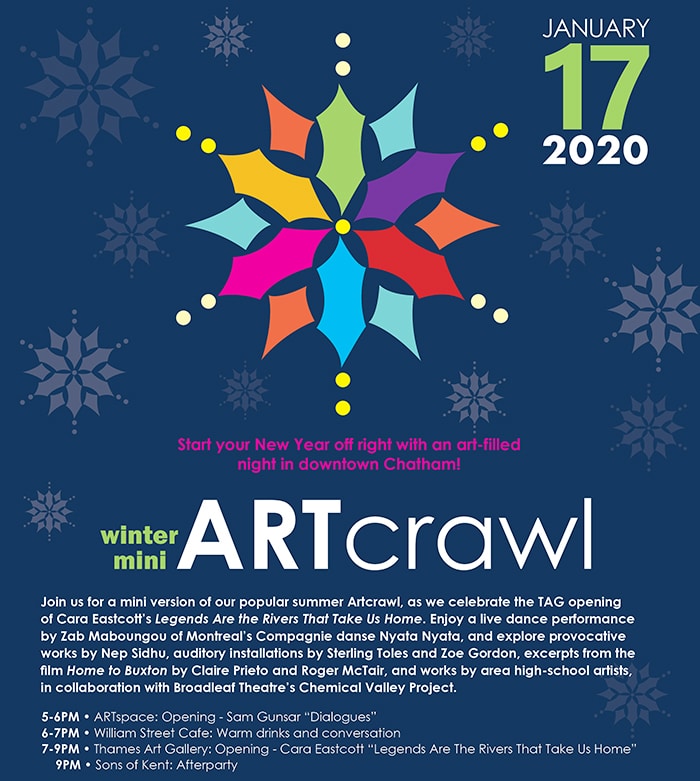 The Thames Art Gallery and ARTspace open two new exhibitions featuring painting, installation, dance, film and sound Friday.
The evening begins at ARTspace with doors opening at 5 p.m.
Artist Sam Gunsar will debut his exhibition of paintings, "Dialogues." The artist will be present to speak about his work promptly at 6 p.m., after which the gathering will be invited to wind its way down King Street for a stop at William Street Café for refreshments, warm drinks and conversation. The work of local photographer Michael Garland will be on display.
The crawl continues to Thames Art Gallery for the opening of "Legends Are the Rivers that Take Us Home," the much-anticipated exhibition by award-winning curator Cara Eastcott.
In 2018 Eastcott was awarded an Emerging Curator Grant enabling her to spend extended amounts of time in Chatham-Kent listening to community members, conversing with African-Canadian historians, and collaborating with local high schools and activists.
Eastcott's vision celebrates a diverse range of voices, each with a part to play in telling our collective story.
To mark the opening of the exhibition, there will be a special live dance performance on the gallery floor at 8 p.m. by Montreal dancer and choreographer Zab Maboungou.