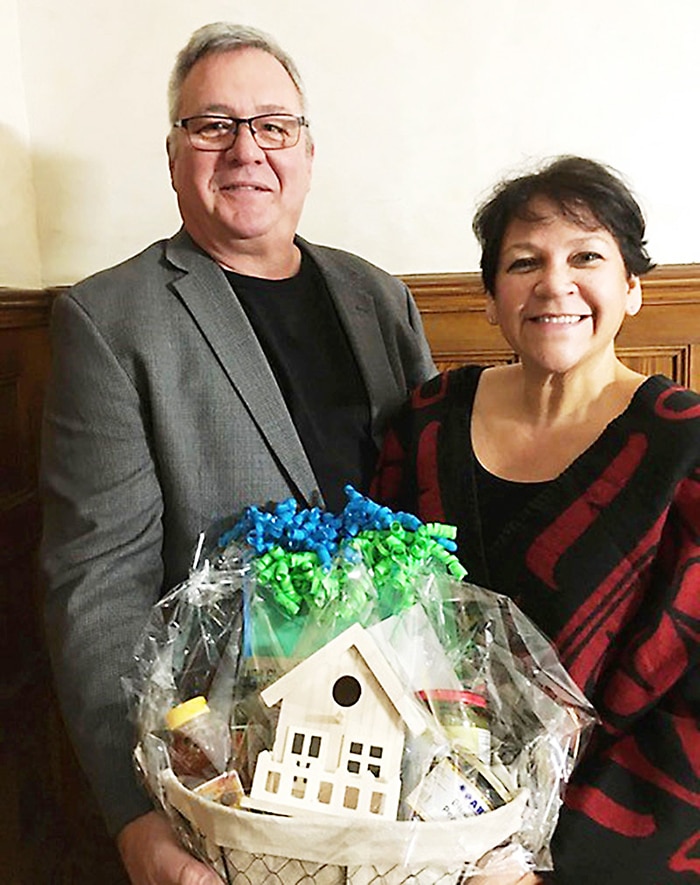 Newcomers to Chatham-Kent, Faith Hale and Ken Wright, were not looking for a historic or designated property, however, they were drawn to "Bleak House" and have become the owners and caretakers of this piece of history.
"The home called us, and it is our desire to share this magnificent home and its rich history with the community," the couple said in a media release.
Bleak House was built in 1887 by Herbert Albert Patterson, a lumber dealer.  Patterson was also mayor from 1886 to 1889.
Bleak House, located on the riverside of King Street in Chatham, was given its name after Patterson filed for bankruptcy. The name, "Bleak House" references the novel of the same name written by Charles Dickens.
Hale and Wright operate an Air B & B within their home with two rooms available for accommodations. These rooms are named after characters from the novel; "Summerson" Suite and "Lady Honoria " Room.
Their home was built with stone and is a rare surviving example of American Shingle Style in Southwestern Ontario.
It also features a porte cochere that is a covered porch-like structure at the side of the home that would have been designed to allow passengers in a horse drawn carriage to enter or exit the home without being exposed to the elements.
The property also has a 1500-square-foot carriage house that the homeowners would like to develop as living space.
Since purchasing this designated heritage property in March, the couple lost no time in making this house their home, with renovations to the kitchen and bathroom as well as general maintenance.
Hale and Wright were eager to share their appreciation of their home with some members of the Municipal Heritage Committee, who recently presented them with a welcome gift basket containing information about owning a designated property as well as an introduction to some of the highlights and amenities of living in Chatham-Kent.
"This home was built to last and at 132 years of age, it is in remarkable condition," noted Hale.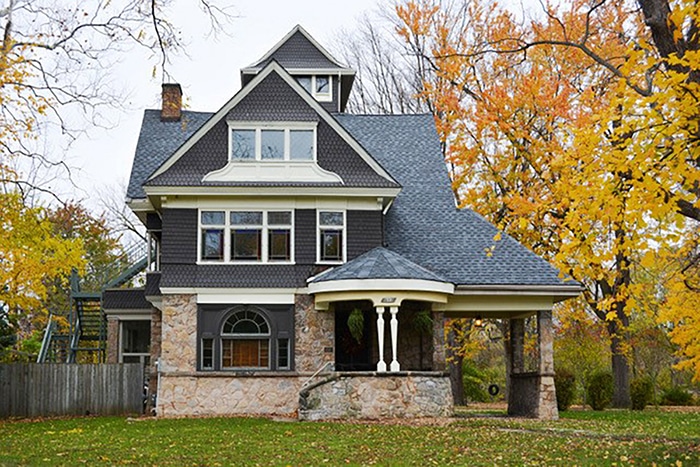 Not only was the house solidly constructed but it was also embellished with quality details and finishes.  Such features as art nouveau stained glass windows, embossed door hinges, exterior balconies, interior fretwork, panelled walls and wainscoting, pocket doors and an elevator are just a few of the highlights that this home has to offer.
Very early wallpaper was retained in the entrance foyer where sections of this wallpaper were damaged and the patterns were no longer visible.  The couple hired a Windsor artist to create a stencil from the remaining imagery and repaint the missing sections. .
There is even a smoking alcove adjacent to the dining room with built-in bench seating. During the late 1800s, it was often a practice for gentlemen to retire to a room in the house for cigar and pipe smoking.
Hale and Wright are enjoying their time in Chatham and describe their neighbourhood as wonderful. They have appreciated how friendly and helpful the neighbours have been, providing them with recommendations for tradespeople, for example.
"The neighbourhood is filled with loving people who have been outreaching and welcoming," they said.
It is the homeowner's desire to support the community in sharing the experience of this exceptional home with others through their Air B & B.
"It is an honour to restore this historic home, which forms a rich part of Chatham's history," the couple said.