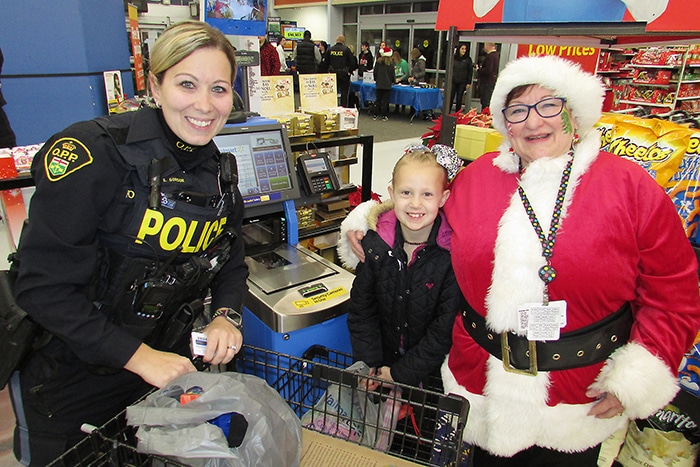 Holiday with a Hero sees 95 kids get shopping support
A sea of uniforms and smiling children took over Wal-Mart Saturday morning during the annual Holiday with a Hero event.
Ninety-five children had the help of a hero – an emergency services staffer – to go Christmas shopping for themselves and family members at Wal-Mart early Saturday.
Personnel from Chatham-Kent police, fire and EMS; Chatham-Kent OPP; CKHA security; Ministry of Natural Resources; and Ontario Parks aided in offering shopping advice, camaraderie, power to operate the shopping cart, and the ability to reach objects on tall shelves for their shopping buddies.
Holiday with a Hero originally came to Chatham-Kent with the OPP's Brian Knowler in 2013. He was exposed to Shop with a Cop, where kids were paired with police officers, in Sault Ste. Marie, brought the idea with him to Caledon, and later to Chatham.
The first four years were known as Shop with a Cop locally, as officers from the C-K police service and C-K OPP detachments took part.
But as interest from other emergency services personnel grew, so did community support, so in 2018, Holiday with a Hero came to be.
Knowler, now a staff sergeant handling traffic and based out of the London detachment, was on hand on Saturday, with a smile to rival that of any of the participating kids.
"The response this year was excellent," he said of the volunteer heroes as well as the support from businesses and individuals who donated funds to fuel the shopping spree by the kids. "There is just such great community involvement and emergency personnel really got on board."
Holiday with a Hero officials said the purpose of this event is to foster positive relationships between children and law enforcement officers.
The participating children, aged six to 12, were chosen by local school boards, Victim Services, Chatham-Kent Children's Services and the United Way.
Each child received a Wal-Mart gift card to purchase gifts for their immediate family.
After a morning of shopping, the children received a hero escort – complete with fire trucks and police vehicles with their lights flashing and sirens blaring – to the Bradley Centre. There, the kids enjoyed breakfast with Santa while "a whole army of elves," according to Knowler, wrapped the gifts.
Following breakfast, the kids had play time, with a number of inflatable castles and play areas involved.