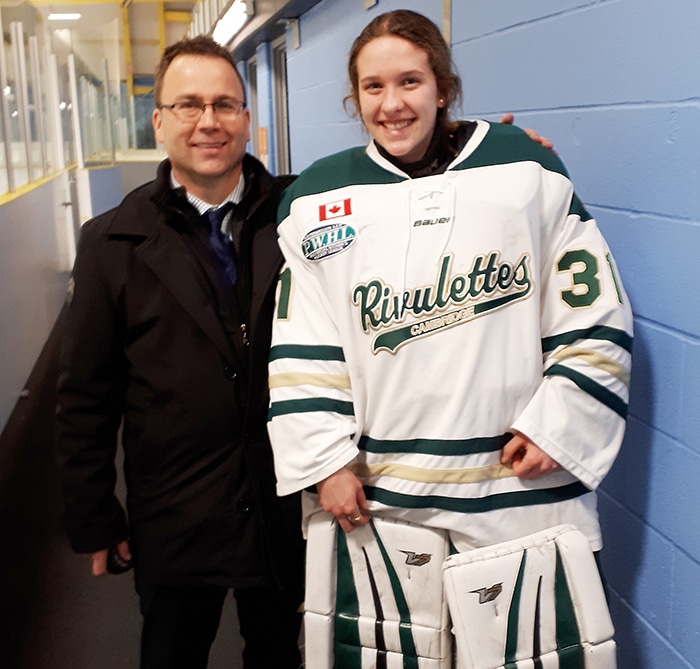 The whirlwind year continues for Chatham's Jessie McPherson.
The 16-year-old hockey goaltender will represent our country later this month at the Under-18 IIHF World Championships in Bratislava, Slovakia.
McPherson attended the tryouts in the summer, made the cut to compete for Canada at a summer tournament in Lake Placid, but did not hear until late November if she would be called to head overseas for the worlds.
She's one of three netminders on the 23-girl roster for the team that will head to Europe Dec. 18 in advance of the tournament.
McPherson, currently defending the net for the Cambridge Rivulettes of the Provincial Women's Hockey League, can't wait for the opportunity.
"I'm excited. I really don't know what else to feel yet. As it gets closer, I'll probably just get more and more excited," she said.
McPherson's time tending goal in Chatham-Kent included stints with the Chatham Outlaws and Chatham-Kent Cyclones.
It's been a busy year for McPherson, aside from competing and making the national U18 club, she made Team Ontario, and recently signed a letter of commitment to attend the University of Vermont next fall on an athletic scholarship and play NCAA Division 1 women's hockey.
With everything that's taken place, the 5-foot-9 goaltender can't wait to play with the Maple Leaf on her jersey.
"I'm looking forward to just the experience. I've never been overseas," she said. "Going with the team and making memories and getting to play for hardware this time for Team Canada – it should be awesome."
McPherson will not only miss Christmas at home with her family, but she'll celebrate her 17th birthday in Slovakia on Dec. 20.
Team Canada will go into the tournament as the defending gold medalists. McPherson doesn't anticipate that bringing any added pressure to most of the squad.
"There are five returning players on the team this year. Maybe they'll feel the pressure rather than the rest of the new kids who haven't played for a gold medal," she said. "I'm just looking forward to giving everything I've got, testing the process."
One wrinkle for McPherson is it appears she will not be donning her traditional No. 31, a number she's worn for years, including this summer in Lake Placid. She's been issued No. 29.
But the teen said she's not the superstitious type.
"I worked with a sports psychologist. He said if you played with superstitions, it was kind of silly," she said.
But McPherson admitted she is a creature of habit when between the pipes. And tapping those pipes with her goal stick during breaks in play is a regular occurrence.
"I tap the posts all the time. It's some weird thing I do and I don't even know why," she said.
McPherson said her game is very much a mental one, as she works to stay one step ahead of the competition.
"My coaches say I'm pretty positionally sound. I think my awareness on the ice is decent; having that instinct of where they are going to go (with the puck) and where the next move is going to be," she said.
She also likes to take control and play the puck behind the net when possible.
"Everything goes so much smoother when a goalie can play the puck. I think I'm pretty strong in it. It speeds the game up," she said.
McPherson will have at least one familiar face on the team, forward Aly McLeod, who plays with her on the Rivulettes.
The U18 women's roster was chosen by Gina Kingsbury, Hockey Canada's director of women's national teams, head scout Melody Davidson and the coaching staff, according to Hockey Canada.
"We are excited about the group that will represent Canada next month," said Kingsbury. "Our staff has done an excellent job evaluating the talent through several different events, including summer camp, the three-game series against the United States and the National Women's Under-18 Championship. We are looking forward to getting underway in Slovakia, and we are confident this group has what it takes to defend our gold medal."
Canada opens its schedule Dec. 26 against Russia. Finland and the U.S. are also adversaries in the preliminary round.
This is McPherson's third and final season with Cambridge and the PWHL. After three years living away from home during the hockey season, she will move even further away next fall, to Burlington, Vt.
With all the time away from Chatham, she admits she cherishes each return visit.
"What's it like to come home? It's very satisfying," she said. "Being here (Cambridge) is hockey, school, hockey, school. Being home helps me to de-stress and be with the people who helped me get to where I am today."
She said she had a close group of friends who, when she's home, essentially pick up right where they left off from her last visit.