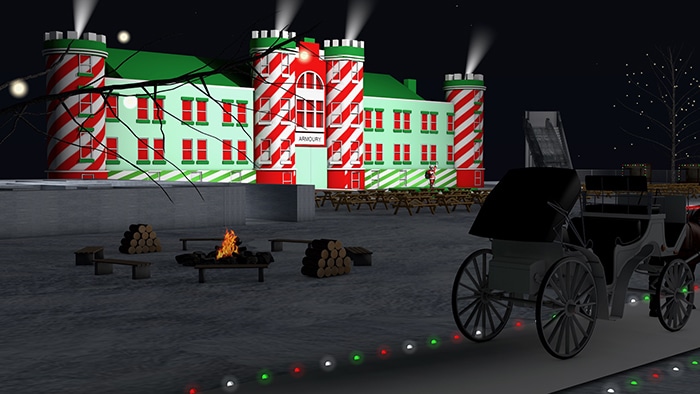 Four Diamond Events (FDE) and To Suit Your Fancy have announced details of a new experience coming to The Chatham Armoury and Tecumseh Park this holiday season that will benefit many local charities.
The Armoury Christmas Market is the first ever Christmas Market of its kind in Chatham and will run Dec. 16 to Dec. 22.  The historic Chatham Armoury will be transformed into a Christmas scene.
The idea was born when, Dan Warrener, owner of the Armoury, approached Lisa Lester, from FDE & To Suit Your Fancy, with an idea to light up the outside of the building with state-of-the-art, modern technology called Projection Mapping. Such light displays have been done in large cities around the world on large buildings telling a story with moving lights, lasers and music.
The Armoury will be lit up like a giant candy cane house from Dec. 20 to 26 between 5 p.m. and 10 p.m., with moving 3-D graphics every half hour.
On Dec. 20 and 21, live shows about Santa Claus and the North Pole start at 7 p.m. in Tecumseh Park.
There will be a Christmas display inside as well.
The Armoury Christmas Market will feature several artisan vendors selling a variety of products including, crafts, clothing and more. Food and drink will be provided by Four Diamond Catering
Santa Claus is coming to tell Christmas stories of long, long ago and there will be a Secret Santa Shoppe for Kids where they'll be able to make and take a gift for their loved ones.
Local schools, musicians and organizations will be performing on stage.
Furthermore, photo-worthy nooks will be set up all over the Armoury for holiday photo and social media opportunities.
The kick off for the event coincides with The Community Living Christmas Tree Lighting in Tecumseh Park on Dec. 16 at 5:30 p.m. with Christmas carollers singing into the night.
Donations are encouraged and proceeds of ticket sales are benefit Community Living, Hope Haven, Chatham Conductive Education and the Children's Treatment Centre.
For more information and to purchase tickets, visit https://armouryfourdiamondevents.com/2019-christmas-market/
Comments
comments