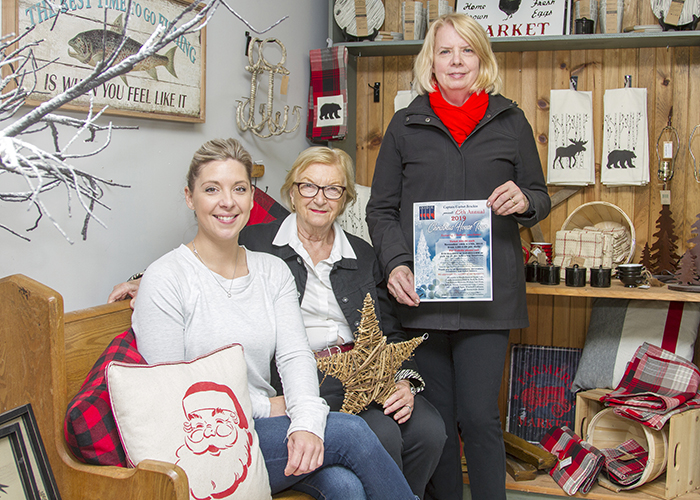 The local IODE chapter wants to help everyone get into the holiday spirit and help with some Christmas house decorating ideas all while supporting a worthy cause.
Presenting their 15th Annual 2019 Christmas House Tour happening on Nov. 16 and 17 between 1-4 pm, the IODE Captain Garnet Brackin event will feature seven Chatham-area homes and one church venue all within the Victoria Avenue area.
"If it's in one area, the ticket purchasers really enjoy it so they're not driving all over and it also makes a more integral tour in terms of celebration. We want the celebration of Christmas to be a part of it," said chapter president Sandra Smith.
Relying on the Christmas Hour Tours each year as their fundraiser for the scholarships and programs they provide, this year a portion of the funds will go to the Newborn Baby Bassinet Project at the Chatham-Kent Health Alliance Foundation.
"We always like to pick something different and tour-goers prefer to know what their money is going towards. All the money from the tour stays in our local area," said Smith.
Averaging more than 700 visitors over the two-day tour period, Smith said they are blessed with the local businesses that donate their time, talent and hard work to transform each home on the tour.
"We couldn't do it without our wonderful decorators and florists because they do all the work and work with the homeowner," said local IODE tour co-chair Marianne Johnstone.
Having participated for three years previously, owner and decorator of Country Comfort located inside The Mercantile, Bailey Myers, said the experience has been nothing but positive
"I love it," said Myers. "I've never had an issue. Between the volunteers that oversee everything, the organizers, the homeowners, everybody is really great to make it a good experience for everyone."
With local stores each decorating one location apiece using their own inventory, Myers said turnout to her Maple Leaf Drive location increases during and after the weeks following the house tour, as participants come looking for pieces they saw.
"We feel that in a small area like Chatham-Kent, our local businesses are really important to the success of the tour. Having people like Bailey, all of our other decorators and our sponsors who make the tour, but especially the design for each house, it's a lot of work for them," said Smith.
Tickets are $20 each and can be purchased by calling 519-354-0803 or 519-351-1406 or can be picked up at a number of local businesses including Country Comforts, Ross' Nurserymen, Glass House Nursery, and The Purple Pansy.