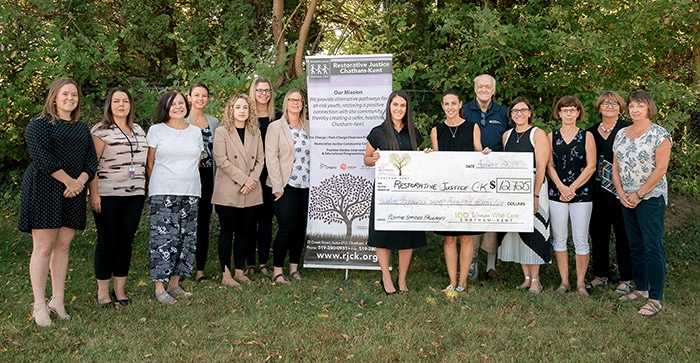 The Chatham-Kent Chapter of 100 Women Who Care recently presented $12,725 to Restorative Justice Chatham-Kent for their Positive Strides Programs.
Nominating Member, Meghan Schultz, presented this financial need to 100+ Women Who Care CK at their August meeting.
"We are incredibly grateful for the contribution made by 100+ Women Who Care CK – thank you to each and every one of you! It's an honour to have Restorative Justice Chatham-Kent be recognized as a worthy recipient of such a generous community donation," Cecily Coppola, Executive Director, Restorative Justice Chatham-Kent, said in a media release. "These dollars will directly support the delivery of our Positive Strides Programs – a collection of seven free educational programs that give local children and youth all across Chatham-Kent the tools and social skills they need to be successful at home, school, and in the community. These programs are positively impacting the lives of local kids every single day, and this contribution will go a long way in helping support upwards of 170 kids through Positive Strides in the coming year."
Since August 2016, 100+ Women Who Care Chatham-Kent has donated more than $137,000 across 13 local charities.
The group meets four times a year for one hour and, at each meeting, three local charities in financial need are presented by members. One is then selected by a majority vote to receive more than $10,000.
Each member of 100 Women Who Care commits to making a $100 contribution to the selected charity, which results in a large impact donation in the Chatham-Kent community.
Membership is ongoing. All women who care about Chatham-Kent, and want to make an immediate, direct and positive effect in their home community, are encouraged to join.
The next meeting will be held on Nov. 27 at the Retro Suites Derby Event Centre from 6 p.m. to 7 p.m.; doors open at 5:30 p.m. for registration and networking.
For more information, as well as commitment and nomination forms, visit www.100WomenWhoCareChathamKent.com or e-mail 100WomenWhoCare.CK@gmail.com.
Comments
comments