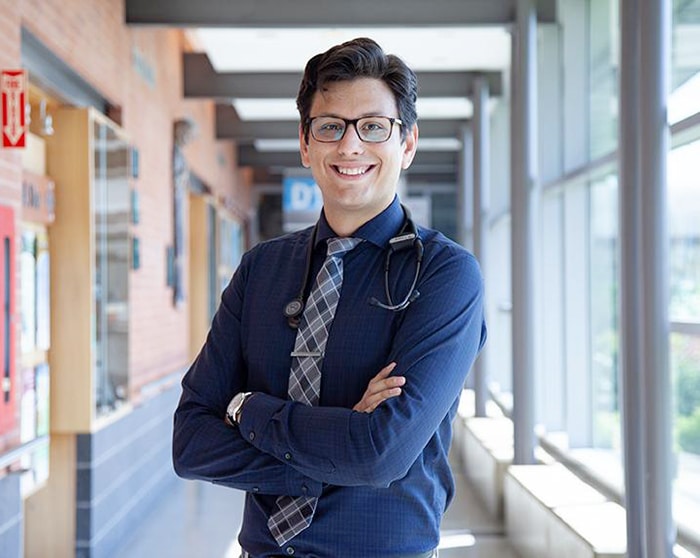 Dr. Shawn Segeren is joining the Chatham Kent Health Alliance (CKHA) and the Chatham-Kent Family Health Team (CKFHT).
However, he will not be accepting new patients.
According to CKHA officials, Segeren will be taking on retiring physician Dr. Jack Galbraith's roster of patients at the CKFHT, and will be working as an Emergency Physician at CKHA.
"We are thrilled that Dr. Segeren has chosen to practice in our Emergency Department after his time as a resident in Chatham-Kent," said Dr. Pervez Faruqi, Chief of Staff, CKHA, via media release. "His knowledge and expertise in Emergency Medicine, as well as his familiarity with the community will greatly benefit our patients and families."
"We are very pleased Dr. Segeren has decided to return to Chatham-Kent to provide primary care to our community. Please join us in welcoming him home," said Laura Johnson, Executive Director, CKFHT.
As Segeren is taking over an existing practice, he will not be taking on new patients. Anyone in need of a doctor is reminded to call Health Care Connect at 1-800-445-1822.
Born and raised in Chatham-Kent, Segeren earned his Doctor of Medicine at the Schulich School of Medicine and Dentistry, Western University in 2016 and his Bachelor of Health Sciences (Honours) in 2011. He then completed his Family Medicine Residency in Chatham-Kent with an additional year of training in Emergency Medicine through Western University's Canadian College of Family Physicians – Emergency Medicine Program (CCFP-EM). The CCFP-EM program provides an enhanced skills experience to Family Medicine graduates through training in higher acuity Emergency Medicine. Dr. Segeren has taken on the role as the Chatham-Kent site lead for the Western University CCFP-EM Program.
"I'm excited to be returning to my hometown. Chatham-Kent has provided me with so many great opportunities throughout my life, and I'm looking forward to giving back to the community as a Family and Emergency Physician," said Segeren.
Growing up in Chatham-Kent, Dr. Segeren has kept close ties to local health care throughout his life. At the age of 13 he began volunteering at CKHA and as a high school student, completed Schulich's MedQUEST Health Career Exploration Program. He then returned as an instructor for the program during his first year of medical school.
Throughout his Residency training, Segeren also provided mentorship to medical students through the Society of Rural Physicians of Canada's Rural Mentorship Program and Schulich's Discovery Week.
"We are very excited to have Dr. Segeren join us at Chatham-Kent Family Health Team. He is a great asset to the Family Health Team and it's a bonus that he has grown up, volunteered and trained in Chatham-Kent. His experience and skill will benefit us all," said Laurie Nash, Director of Medical Recruitment, CKFHT.