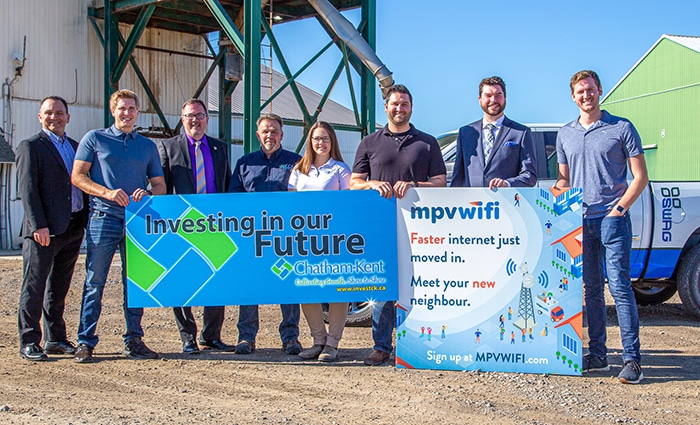 Thanks to a new partnership between MPVwifi and Southwest Agromart (SWAG), MPVwifi will now be providing Internet access to all of the SWAG branches and locations.
In addition to this being a major business contract for MPVwifi, it also means new options for rural Internet access across more areas of Chatham-Kent thanks to an arrangement which will allow them to use SWAG's elevator infrastructure to install new access points.
"When we launched in 2017, we had dreams of helping people and businesses gain a quality Internet connection outside of the urban core areas," said Phil Cameron, owner of MPVwifi, in a media release. "Working with the excellent team at SWAG is going to help us turn this dream into a reality for many more people across Chatham-Kent."
Recently, SWAG moved their head office from Chatham to their rural head office in Eberts. This change meant that they were looking for an Internet provider who could give them the capacity and the quality to which they are accustom.
"Southwest Agromart understands the importance of broadband Internet service as a key ingredient for the prosperity of rural Ontario communities. This project will allow residents in our communities, many of whom are our valued customers, to be better connected to businesses, family and to have better access to online services and tools," said Dave Page, General Manager of Southwest Agromart. "By partnering with MPV, we are meeting our internal commitment of increasing the potential for economic growth and diversification while at the same time enhancing the quality of life in our local rural communities."
"It is part of my vision to see Chatham-Kent become a fully connected community through technologies such as fibre, LTE, and of course Wi-Fi," said Chatham-Kent Mayor, Darrin Canniff. "We know that strong Internet access will help to provide the backbone for our ongoing digital evolution across the region and companies like MPVwifi will help to lead that charge."
As part of the announcement, MPVwifi said that towers are currently operational and both residential and business customers are already connecting to these new access points.
"People can see where we have towers located by checking out the service area map on our website. We're ready to help more people in rural areas of Chatham-Kent connect to fast and reliable Internet," said Cameron.
For more information about MPVwifi, visit www.mpvwifi.com.