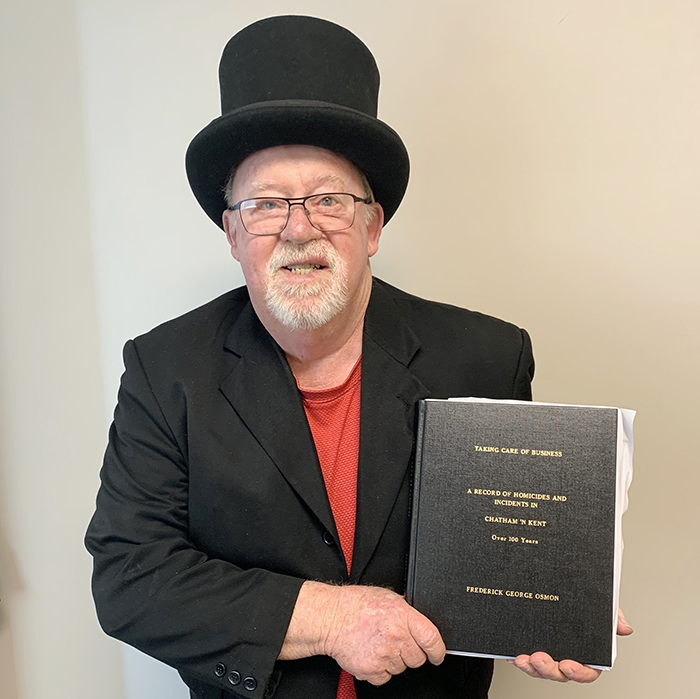 Local author Fred Osmon has spent years researching and compiling stories of local sports heroes and everyday heroes. This time around, Osmon opted to go darker, wiping off the dust and peeling back the curtains on homicides in Chatham-Kent.
Osmon looked back more than 100 years and unearthed more than 100 murders in "Taking Care of Business, A Record of Homicides and Incidents in Chatham 'N' Kent."
It's Osmon's seventh book. But while the past ones have focused on such topics as the history of baseball in the area; to a book on everyday heroes; and one paying homage to the plethora of agencies, service clubs and Churches in the area; "Taking Care of Business" delves into death.
"We've got some wonderful local authors, but nobody seemed to be touching this area (historic homicides). Over time, these victims are forgotten. They should never be forgotten," Osmon said.
Included in the book are the deaths of four police officers, constables Robert Rankin, William Pickard, Douglas Reynolds and James McFadden.
Rankin was beaten to death with farm implements in 1893 while he and two other officers were attempting to arrest a man, George Freeman, wanted for "having carnal knowledge of a 13-year-old white girl," the book states.
Freeman and his two brothers, Alex and William Henry, were ultimately sentenced to a combined 80 years in prison.
Pickard died after getting shot in the ankle in 1922 while confronting three men as they were in the process of robbing a store in Thamesville. The bullet shattered his ankle, and he never recovered.
Two of the men, Zimmer Noah and Edward Rickman, were convicted of manslaughter.
Reynolds died after a scuffle with James Whaley in 1947. A punch by Whaley as he was being taken into custody dropped Reynolds to the ground, and his head hit the sidewalk.
He never regained consciousness.
Whaley was sentenced to seven years for manslaughter.
McFadden, with the OPP, was writing out a ticket on the last day of 1999 on Highway 401 after pulling over a speeder. Another vehicle slammed into the back of his cruiser, and he was killed.
Investigators believed the ramming was intentional, but Edward Buskar was found not criminally responsible and was committed to a psychiatric hospital.
Osmon's book also details the death of Joe Grozelle, a graduate from Ridgetown District High School who went missing from Royal Military College in Kingston in 2003.
After 22 days of searching, Grozelle's body was discovered in the Cataraqui River not far from the college.
No one was ever charged. In fact, the cause of death was undetermined. Some believe he committed suicide, but his parents, and Osmon, aren't so sure.
"I have my thoughts on this, but I couldn't put it in print," he said.
Osmon added that researching Grozelle's death had an effect on the writer.
"Out of that whole book, there was one story that brought me to tears – the story of the young man out of Ridgetown, Joe Grozelle. The ceremony at the cemetery just brought tears to my eyes," he said.
Osmon said while many of the murders took place around the turn of the 19th Century to the 20th, it is still surprising how many C-K killers are free today.
"It's unbelievable how many are out walking the street. They served their time and they are out," he said.
But Osmon sees Chatham-Kent as a safe place to live these days.
"We're a pretty good community. I would say it's a great place to raise your family," he said. "We don't have too many serious problems very often."
Osmon said he publishes his books because of his love of local history.
"Taking Care of Business" will be available in area libraries. To purchase, contact Osmon directly at osmonre39@gmail.com to order a copy.
He will also be holding a book signing Oct. 19 at the Tim Horton's on Grand Avenue East from 2 p.m. to 4 p.m. and will have copies available.
As for his next book, Osmon said it might have more limited appeal.
"My family is bugging me to write our family history. I guess I should get that done," he laughed. "I just enjoy writing local history so much I couldn't give it up."