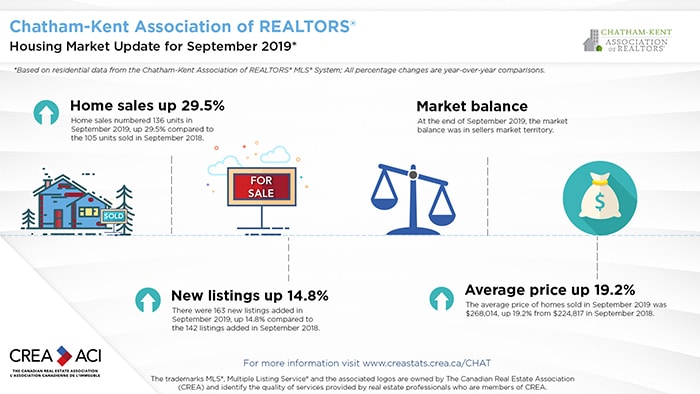 It was a hot September in terms of home sales in Chatham-Kent. In fact, it was the hottest on record for sales.
A total of 136 units changed hands in September, according to the Chatham-Kent Association of Realtors.
That's a jump of nearly 30 per cent compared to September 2018. It also marks the highest September sales figure ever recorded.
On a year-to-date basis, home sales totalled 1,035 units over the first nine months of the year, up nearly four per cent from the same period in 2018.
"Home sales surged ahead in September to set a new record for the month, which is an impressive feat given how few properties are currently out there for sale," said Steve Carroll, President of the Chatham-Kent Association of Realtors, in a media release. "The competition between buyers for that limited pool of listings continues to push average prices to new records."
Carroll added prices continue to rise.
"With just three months left to go in 2019, the average sale price in the region remains on track for an annual gain of about 20 per cent," he said.
The average price of homes sold in September 2019 was a record $268,014, jumping 19.2 per cent from September 2018.
The year-to-date average price was $252,147, rising a similar 19.9 per cent from the first nine months of 2018.
There were 163 new residential listings in September 2019. This was an increase of nearly 15 per cent on a year-over-year basis.
Despite the increase in new supply, overall listings remain stuck at their lowest level on record for this time of the year. Active residential listings numbered just 247 units at the end of September, down slightly from the end of September 2018.
Comments
comments
« Resilience main theme of Orange Shirt Day Health-care changes opposed »