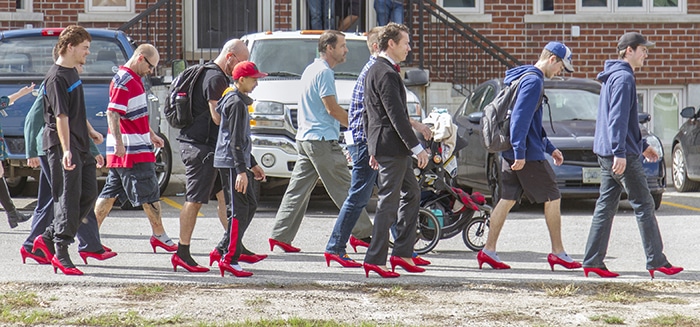 It was a sea of bright red high heels as men of all ages carefully balanced themselves in their shoes in the walk to help end domestic violence and abuse last Tuesday.
With the event in its 11th year, this is the first time Walk A Mile In Her Shoes took place at St. Clair College's Thames Campus.
Karen Hunter, executive director of the Chatham-Kent Women's Shelter, said moving to the college campus was a good decision.
"We wanted to get a lot of people involved that maybe wouldn't normally come out on the weekend," said Hunter.
"With the college students here, we had the power line class, paramedics, we had different students from different parts of the college and I think some faculty as well. From the community at large, TekSavvy was here with their guys, so there was a nice mixture of people."
Supporting the local Chatham-Kent Women's Centre, the event raised more than $10,000 this year and saw an increase in participation as an estimated 60 males joined in the walk, including St. Clair College paramedic students Connor McAlorum and Dylan Trapp.
"It's for a great cause and it's always good to be involved," said McAlorum.
"It's a pretty big turnout and I didn't think there would be that many," added Trapp of the crowds.
Helping more than 1,000 men and women each year at the Centre, Hunter has seen an unusually steady increase over the last three years for the need for their services.
"We have been filled to capacity and had a waiting list unfortunately for emergency shelter services and just for programs for women and children," said Hunter.
Looking towards the future, Hunter believes the education of students is a key factor to making a difference.
"If we can get into the school system to talk to young people about the warning signs of dating relationships, what are healthy relationships, what are positive couple relationships and the forms of violence and abuse so that people identify, 'This doesn't look or feel right to me, I shouldn't be in this situation.'"