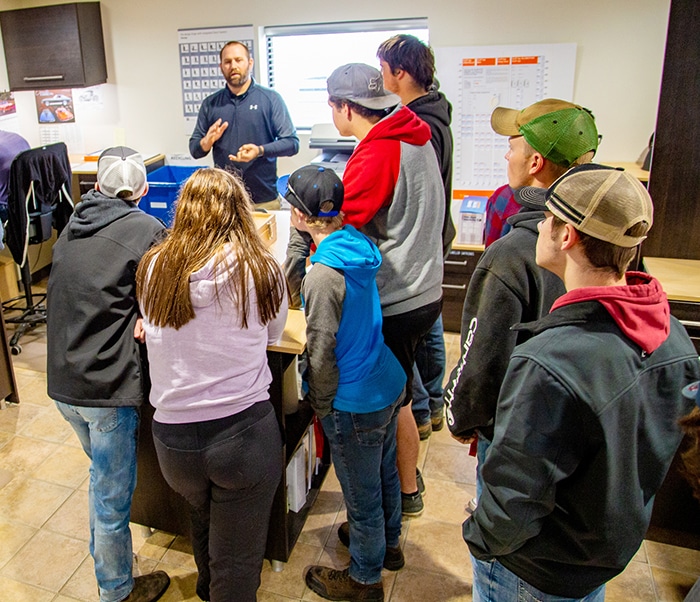 About 200 students had opportunity to go past the showroom and see what it takes to create the products for which our region is known recently, as they attended the annual Manufacturing Day.
Students in grades 10 through 12 had a guided tour of manufacturing facilities where they learned about tools, technology, and the training needed to have a successful career in the trades.
During the tours, company representatives also shared important lessons about the value of workplace culture, soft skills such as communication between staff, and the necessity to arrive on time for work.
Several employers discussed with students that their attitude towards responsibility is just as important as having the skills for the job.
"One of the questions we have heard employers now asking during an interview is 'what kind of chores did you have when you were growing up,'" said Andrew Tompsett with Chatham-Kent Economic Development, via a media release. "They have discovered that this question gives them a good understanding of the work values that a potential candidate may have."
The event, which was organized by Chatham-Kent Economic Development Services, is part of the national Manufacturing Day campaign designed to show the reality of modern manufacturing careers by encouraging thousands of companies and educational institutions around the nation to open their doors to students, parents, teachers, and community leaders.
Ten manufacturers participated in Manufacturing Day.
In addition to discussing careers in the trades with students, employers are also sharing information on other roles such as human resources, management, and administration.
Chatham-Kent has more than 180 manufacturers, many of which work with exotic metals, precision componentry, and specialty testing equipment.
The local advanced manufacturing sector is home to system builders that cultivate success and produce precision products within very high tolerances.
Comments
comments