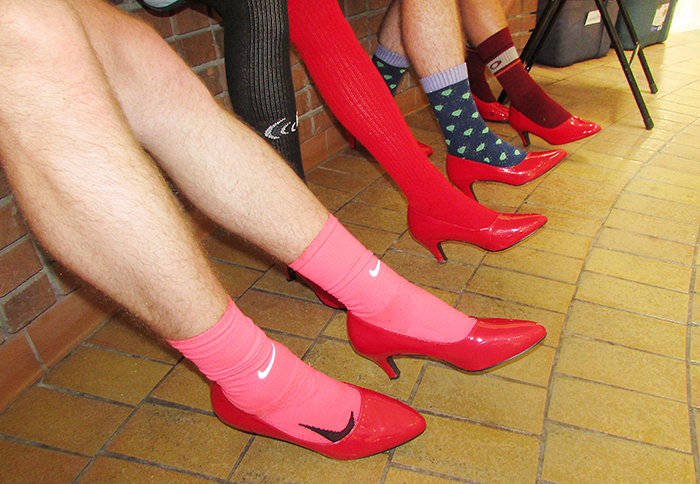 Men will walk a different mile this year, but still in support of the Chatham-Kent's Women's Shelter.
The annual Walk a Mile in Her Shoes fund and awareness raiser takes place Oct. 8 at St. Clair College.
Different venue, and different day for the 11th annual walk, according to Karen Hunter, executive director of the shelter.
Past walks have typically taken place on the weekend, and were at or in the Downtown Chatham Centre. If the weather didn't co-operate, the male participants walked indoors in their red high heels. Otherwise, they typically walked a lap in the downtown.
Hunter looks forward to the new location, as well as the midweek timeline, as the walk is on a Tuesday.
"We're hoping for a really good turnout for the guys. It is on a Tuesday, but it was dwindling in numbers, and we thought we'd partner up with the college."
Hunter calls the walk, "preventative education," as it is designed to help raise funds for families who have come to the shelter fleeing domestic violence, and to help people realize such violence is still all too present in our society.
"It's good for college students to see this. We're hoping to have a lot of men who are attending college, and faculty, come out and support this," she said.
The women's shelter is currently filled to capacity, she added. It has been that way for the past four months.
And that really limits who the centre can assist.
"We're closed to any out-of-town clients who may want to potentially come in. We have to serve our own community first," Hunter said. "We get a lot of requests from Windsor and London. We just can't take them. There are too many here."
Hunter said funds raised from Walk a Mile help support the centre's programs.
"With budget cuts and ever-increasing demands with some people with pretty complex issues, we're not receiving enough money," she said.
But Hunter stressed the awareness element of Walk a Mile is just as important, if not more so.
"For me, the bigger piece is the public awareness. We're drawing attention to the issue, which is present and widespread in our community. We need to end the violence against women, children and men in our community," she said.
Hunter said it's actually getting worse, not better.
"Domestics in general have increased. Sometimes, it's between kids and their parents or their grandparents. It's not necessarily intimate partner abuse."
With Walk a Mile, Hunter said the centre hopes to also encourage participants to have fun while fundraising. She called it a "silly" event, as dozens of men hobble around in red high heels.
She expects a solid turnout at the college, rain or shine.
Hunter said women are encouraged to come out and support the cause as well. She said participants often bring their wives and children.
"We want the women to be there as well. We will be selling red Walk a Mile in Her Shoes bracelets too," she said.
For any guy worried donning the high heels could cause them to turn an ankle, Hunter said the shoes are symbolic, but not necessary. Some walkers just carry the shoes with them.
Day-of registration for Walk a Mile begins at 11 a.m. Oct. 8. Walkers begin their trek about 12:15 p.m.
There will also be a barbecue and music.
For anyone who raises $25 or more, their name will be entered into a prize draw.
"We're looking forward to having a great event and see lots of guys out there," Hunter said.
For pledge sheets and more info, visit https://ckwc.ca/walk-mile-shoes/