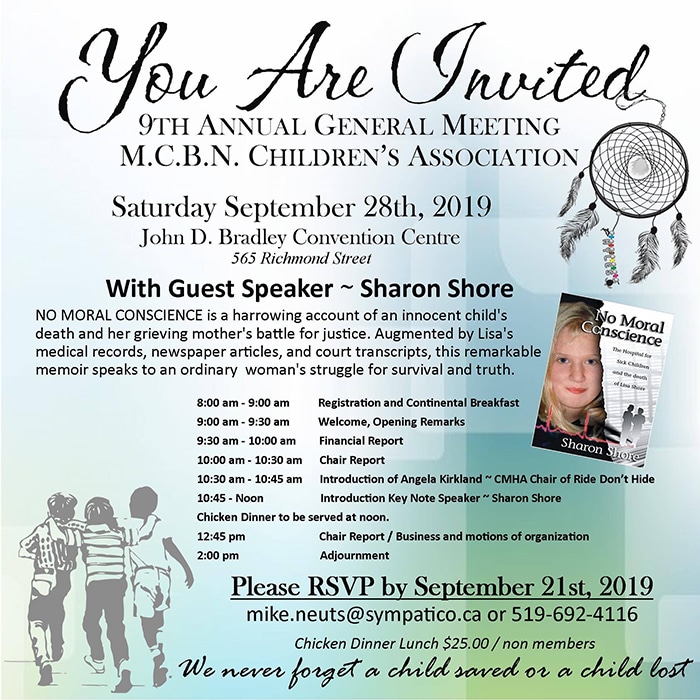 Author, lawyer and still-grieving mother Sharon Shore will speak in Chatham this weekend.
Shore, whose daughter Lisa died while in Sick Kids Hospital in Toronto, will be the keynote speaker for Make Children Better Now (MCBN) at its annual general meeting Saturday at the Bradley Centre.
Mistakes were made in the treatment of Lisa, then 10, in 1998 at the hospital, resulting in her death.
The death was ultimately ruled a homicide by a coroner's jury, but Toronto police did not investigate because they said there was no evidence anyone intended to kill the girl.
Mike Neuts of MCBN said Sharon Shore and her family endured a great deal back in 1998.
"When a kid's involved, oh my God, if you read her book, it insinuates the caregivers believe the girl was a fake and didn't pay attention to her," he said.
Neuts said Shore will talk about her experience and discuss what losing her daughter did.
"I think it's something other people should hear. To facilitate that is pretty cool," Neuts said. "We need to learn from the past. Horrible stories need to be heard."
Shore penned "No Moral Conscience" to share her family's story.
Before the 1998 event that reshaped her life, Shore was a typical suburban working mom of three young children.
In February 1998, Lisa broke her leg and developed a chronic pain disease known as Complex Regional Pain Syndrome.
Staff at Toronto's Hospital for Sick Children said that her pain was all in her head, and Shore said they essentially refused to treat her daughter.
The family went to Boston, where Lisa was successfully treated. But she suffered a relapse, and her family had no choice but to bring her back to Sick Kids.
Lisa was admitted to the same ward where the doctors and nurses had previously refused to believe she was genuinely suffering. Her vital signs deteriorated overnight, while she slept. Lisa was found dead in the morning.
Neuts' son Myles also died in 1998 at the hands of bullies at a local school. He was found unconscious hanging from a coat hook in a school washroom. He never regained consciousness.
"She had a coroner's jury just before me. We've talked plenty. She was counselling me on how to handle the coroner's inquest back in 2000," Neuts said of Shore. "We were in touch a lot. She guided me."
Neuts said Shore went on to become a lawyer and he's always looked up to her.
"She was like me. She took on the system. Your child's gone. It's not a win, but she won," he said of the homicide verdict from the coroner's jury.
"We're birds of a feather, yet I won't meet her for the first time until Friday," he added. "I wish I would have met her daughter. But we all belong to that club that no one wants to belong to."
This is the ninth AGM for MCBN. The group has brought in numerous speakers over the years, including a pair of victims of Father Charles Sylvestre; and Leah Parsons, mother of Rehtaeh Parsons, who committed suicide in 2012 after months of bullying and harassment.
As Neuts said, the "horrible stories" need to be heard.
"Whether it's priests and clergy with kids, whether it's school boards not owning up to bad behaviour inside their hallways, we as a non-profit for kids, want to present sad things so we (society) might pay attention," Neuts said.
In the wake of his son's death, Neuts fought to change the system inside of schools. He said he's had mixed results.
"We have had an effect in some things being deciphered and changed, such as the definition of bullying," he said
But Neuts believes but other changes are needed, such as having older children in elementary schools monitoring younger kids during lunch.
"If a child is choking, the monitoring child is going to run and get an adult and run back. Hopefully, they get back in time. And that's the simplest scenario," he said.
MCBN's AGM begins at 8 a.m. Saturday with registration, with Shore slated to speak at 10:45 a.m. There is a lunch ($25 for non MCBN members), and the event is to wrap up mid-afternoon.
For more information, call 519-692-4116 or e-mail mike.neuts@sympatico.ca.