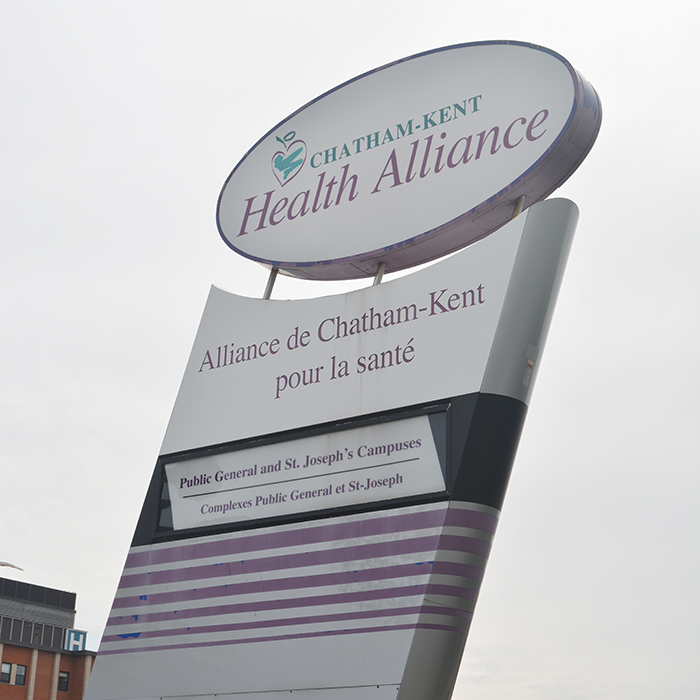 Chatham-Kent Health Alliance (CKHA) recently announced a host of new physicians.
Dr. Ihssan Abdul-Kareem joins CKHA in the role of Radiologist, Dr. Sandhya Misra joins as a Hospitalist, Dr. Aaron Gross joins in the role of Emergency Physician, Dr. Chinedu Anthony Umeadi joins CKHA as a Psychiatrist, Dr. Jonathan Fairbairn joins in the role of Psychiatrist, Dr. Manna Adegbite joins in the role of Paediatrician and Drs. Sandra Gregorovich and Garvey Chilopora join CKHA as Obstetricians/Gynaecologists (OB/GYN).
"Their contributions to our programs and services will be a great addition to CKHA and help us further our commitment to delivering Patient and Family Centred Care," said Dr. Pervez Faruqi, Chief of Staff, CKHA, in a media release.
Fairbairn grew up in Chatham and attended Western University in London for his undergraduate studies.
He earned an Honours Bachelor of Medical Science (BMSc Hons) in Pharmacology and made the Dean's Honour List for excellence in academic performance. He then went on to receive his Doctor of Medicine in 2014 from Western University.
Fairbairn completed his Psychiatry Residency at Queen's University in Kingston from 2014 to 2019.
"I look forward to joining CKHA's team and providing high quality and compassionate patient care. Since starting my medical training, I always knew that one day I wanted to return to serve my home community. I am grateful to have the opportunity to fulfill this long-term aspiration," said Fairbairn. "After having experienced living elsewhere, I've come to especially appreciate the kindness and generosity of the people of Chatham-Kent. I look forward to giving back to the community which has provided so much, and has had such a large influence on me."
Adegbite earned a Bachelor of Medicine, Bachelor of Surgery (MBBS) from the College of Medicine, University of Lagos, Nigeria in 1994. She did her Residency training in Primary Care Paediatrics at the University of Illinois at Chicago in 2000 and received specialty training through a Perinatal Medicine Fellowship at the University of Saskatchewan in 2006.
With 18 years of paediatric experience, Adegbite has extensive practice in both inpatient and outpatient paediatric care of children and adolescents ages 0 to 17 years.
Adegbite is now accepting patient referrals and is located at the Chatham-Kent Child and Adolescent Clinic, 202 King St. West in Chatham. The office can be reached by phone at 519-358-1880.
Born in Buenos Aires, Argentina, Gregorovich obtained her Doctor of Medicine from Universidad de Buenos Aires in 1990.
She immigrated to Canada with her husband and two sons in 2004.
Gregorovich will be taking the Royal College of Physicians and Surgeons of Canada exam in September 2019 to obtain her subspecialty in Maternal Fetal Medicine.
Her office is temporarily located at CKHA's Chatham Site on the Women and Children's Program floor, Zone B, Level 3. Her permanent office opens on Nov. 1, and will be located at 20 Emma St., Building B. All new patient referrals can be sent by fax to 519-355-0239.
Chilopora earned his Bachelor of Medicine, Bachelor of Surgery (MBBS) in 2001 from the University of Malawi, College of Medicine in Malawi and received his Residency training in Obstetrics and Gynaecology at the University of Cape Town, South Africa in 2009. He has spent the past seven years practicing general Obstetrics and Gynaecology at the Burin Peninsula Health Care Centre in Newfoundland.
Chilopora is accepting patient referrals by fax at 519-351-5712 and is seeing patients in his clinic at CKHA on Tuesdays and Thursdays until Oct. 31, 2019. As of Nov. 1, his office will be located at 41 Grand Ave. W. in Chatham and clinic patients will be seen at this location. His interim office phone number is 226-626-4841.
Abdul-Kareem completed his early education at Al-Nahrain University in Iraq. He completed his Diagnostic Radiology Residency at Ottawa Hospital and the Children's Hospital of Eastern Ontario (CHEO), University of Ottawa in 2018 and became a Fellow of the Royal College of Physicians and Surgeons of Canada (FRCPC). Most recently, he held the role of Clinical Fellow in Abdominal Radiology at Sunnybrook Health Sciences Centre, University of Toronto.
Misra is a triple board-certified physician specializing in Internal Medicine, Geriatrics, Hospice and Palliative Medicine. She earned her Doctor of Medicine from Manipal Academy of Health Services in Manipal, India.
Gross has joined CKHA in the role of Emergency Department Physician. He earned his Doctor of Medicine from the Schulich School of Medicine & Dentistry, Western University in 2013 and completed his Family Medicine Residency training at CKHA as of June 30.
The Chatham-Kent Residency program offers medical students the opportunity to learn and practice medicine in a rural environment with a variety of learning opportunities in both inpatient and outpatient medicine.
Umeadi earned a Bachelor of Medicine, Bachelor of Surgery (MBBS) from Abia State University Uturu, Nigeria in 2000. He comes to Canada after spending the past 10 years as a consultant and staff Psychiatrist at various health care centres in the United Kingdom.