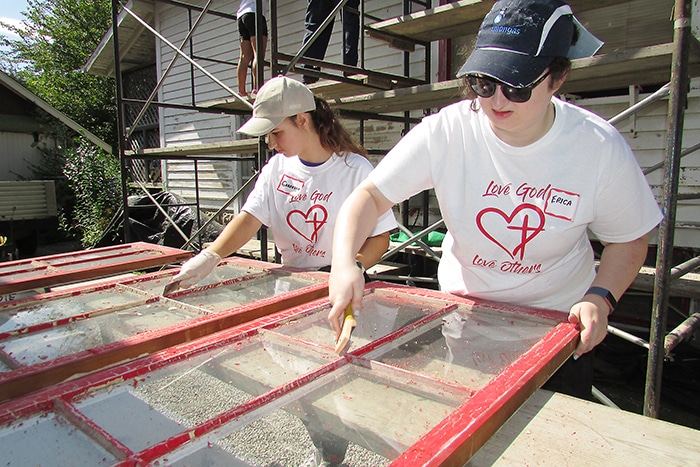 Organizers of the annual Backyard Mission Project in Chatham say they never have a shortage of volunteers, but sometimes have a tough time finding a homeowner to donate time and materials to.
That's right, they can't always find nominees for free yard work; two days of it.
Mike Maroney, pastor at First Presbyterian Church in Chatham, which teams up with First Christian Reformed Church to conduct the Backyard Missions – 11 to date – said this year is a pleasant exception, as volunteers tackled two houses on the same street.
Over the two days, 50-plus volunteers scraped paint off the exterior of 166 Forest St. and performed some landscaping and cleanup there and at 148 Forest St., where they also replaced rotted wooden walkways.
Maroney said the opportunity to help two homeowners was perfect.
"We were worried each one wouldn't have enough work for all our volunteers," he said. But combined, things worked out well.
"We replaced all the walkways at one house and painted and landscaped at the other one," he said.
The army of volunteers doesn't do it alone. Maroney said more than two-dozen local businesses have partnered with Backyard Mission this year.
"It's just amazing. They keep saying it is so wonderful that it is here in town," he said of business owners' responses to Backyard Mission.
The businesses will donate or deeply discount materials, and even food to refuel the volunteers.
"They are very generous and very excited to be part of it," Maroney said.
Another key contributor is on-site contractor Mark Labadie of Labadie Construction. Maroney said he's helped oversee operations in all 11 years of the Backyard Mission.
Maroney said the support from the congregations of the two churches is incredible, year in and year out.
"You can't put a price on the amount of people power," he said.
While the volunteers toiled away at two homes this year, just finding a recipient for the free help and improvements can be at times difficult, Maroney said.
All you have to do to qualify is be a homeowner with a home in need of exterior improvements.
Maroney said if you or someone you know qualifies, check out his church's website at http://www.firstchatham.org/ and follow on to the Backyard Mission page to learn more.