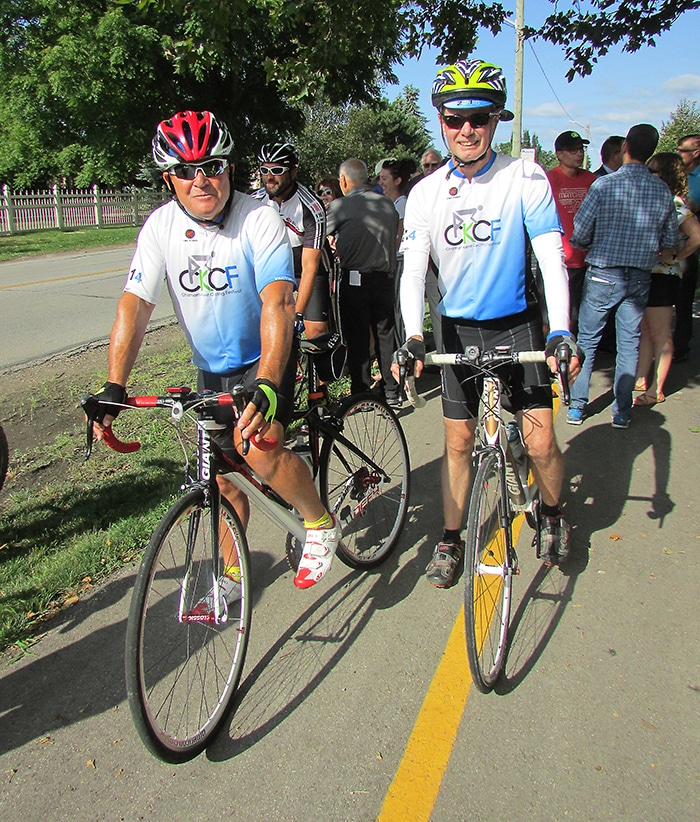 Angelo Ligori, a senior advisor at Greenfield Global in Chatham, made a promise to his wife, and Greenfield Global helped him keep that promise, contributing $250,000 to the multi-use trail project on Grand River Line.
The completion of Phase One of the Greenfield Global Trail project – three kilometres of trail starting adjacent to Grand Avenue West in Chatham – was celebrated Aug. 8 by Ligori and all the partners involved in the project, including CK Trails, the municipal engineering department and Greenfield Global.
While speaking at the event, Ligori, who moved here with his wife in 2010, told the story of how he was inspired to approach the President and CEO of Greenfield, Howard Field, after his wife was bumped by a truck while riding her bike on Grand River Line.
"She was OK, however, after a long discussion I said to her, 'They should widen this road.' Well, I'm the engineer in the family so she looked at me and said, 'Yeah, what are you going to do about it?'" he explained. "So here we are; promises made to a wife. I am delighted I was able to do that with the support of everybody here."
Mayor Darrin Canniff was at the event and said he was very happy with the all the people who worked together to make the trail project a reality, and he hopes to see similar collaborations in the future.
"This is a very exciting time for me. In 2014 as a councillor, I started getting involved in this project," Caniff said. "What a great example of a public/private partnership."
The mayor credited Ligori and Greenfield with getting the ball rolling on the project, working with municipal engineer Thomas Kelly and forming a committee that worked long hours to make the project happen.
"This is first phase and, in the end, we will have 21.5 kilometres looping around the Thames River. This will be a major statement in the community and provides a safe way to ride bikes and jog," he added. "Imagine when it's done, we can start having half marathons, attracting a lot of people in a healthy way. We need trails all across the community. I would like to see some day, that the entire community is linked by trails, and you can jump on a bike and get to any community in Chatham-Kent."
The finished trail will go from Grand Avenue West, continuing west on Grand River Line, across the Prairie Siding Bridge and heading east back to Chatham on Riverview Line.
Field, who also addressed the crowd at the trail head, talked about Ligori coming up to him five years ago and telling him to sit down, and Field said his immediate response was, "How much?" and then Angelo told him about the project and he knew it was a "no-brainer" to get involved.
"I got into town at about 7:30 p.m. at night, put on my running shoes and went for a run from Retro Suites, made it over the bridge, and came along here and it is beautiful. I travel a lot, and I run, and I must say, this was the most enjoyable evening runs I've had in a long time," the CEO stated.
What impressed Field most, he noted, was how much the trail was already in use after just opening. He saw people biking to Riverside for ice cream and walking back with coffees, as well as families together and people running.
"That's incredibly important for Greenfield. Our mission of our company, our vision, is to unlock the potential of people partnerships and nature to accelerate sustainable solutions for the health of our planet," he said. "Having been in Chatham for 21 years – my father built that plant, and Angelo was part of it and many others – I think this is another way to improve the environment, and our partnership here with Chatham-Kent is incredibly important."
Field added he was looking forward to the day when half marathons would be run on the trail and said he would be here for that.
The woman behind Chatham-Kent Trails, Dianne Flook and her committee, were also at the official opening of Phase One, and she said her committee and all the partners worked very hard to make the trail happen for many years.
"Having a 21.5-kilometre trail around our scenic Thames River seemed like an impossible dream five years ago. When Angelo spoke to me, I thought maybe this is a guy who can do it," Flook said. "And then Greenfield Global jumped in with both feet and they not only brought money but they brought a philosophy, and that's what we needed to bring people to Chatham-Kent."
Flook said the offshoots of this project produced partnerships, including Thomas Kelly and C-K engineering, resulting in paved shoulders on roads for biking trails, and CK Cycling club who are strong supporters, She said two of the long-distance cycling members will be sharing a trail map for cyclists in Chatham-Kent that will be put up on the website soon and in the Chatham-Kent Trails master plan.
The next phase of the Greenfield Trail is expected to start next spring, according to C-K Manager of Parks and Open Spaces Jeff Bray, likely on Riverview Drive to create a logical connected loop as they complete pieces of the Greenfield Trail and municipal trails on Bloomfield and Richmond Street.
"We want to complete the projects in logical loops for the public, creating connectivity so it makes sense," Bray said.
He noted funding for the Greenfield Trail was also received from the Ontario government and the federal Great Trail group.
Next steps for the Trail committee are updated booklets available for the public that give details on the almost 70 trails available for the public to use. Flook said the booklets are currently at the printer, but will be found at municipal service centres, libraries and at local arenas in Chatham-Kent. Trail information can also be found at https://chathamkenttrails.ca/.