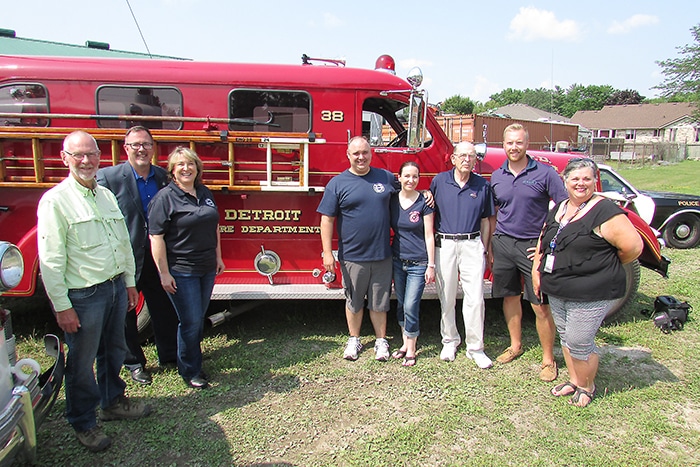 Brent DeNure expected his father might put him in Time Out if he didn't keep FireFest alive.
As a result, FireFest, which began in 2012, will continue this year in downtown Chatham on Sept. 21.
A year ago, citing organizer burnout and differences with municipal officials, DeNure said FireFest 2018 would be the final version of the popular event.
A new mayor and new attitude helped change all that. So too did a strong nudging by DeNure's father, Reg.
"My father convinced me not to let this go. With a new, friendly face at city hall, changes were made to make it a lot easier for event organizers to survive and even thrive," DeNure said, pointing to Mayor Darrin Canniff as the game changer. "Darrin did pave the way for its return. I was blown away by the number of meetings he had between his swearing in and the end of January. To have the mettle to listen to all these people, and create change…we had a very serious dedication of support from the mayor's office."
Canniff said it would have been a shame to lose FireFest.
"It's a fantastic event that thousands of people come out and enjoy," he said. "We want to see this go on for many years to come."
DeNure said after he announced FireFest would not continue after 2018, he realized the importance of the event.
"There are kids now in college who attribute FireFest as to why they are pursuing a career in emergency services," he said.
Canniff praised DeNure's efforts.
"Brent is a great example of someone in the community who wants to give back. We, as a municipality, can't be a barrier. We want to make it easier," he said. "We want things to do in Chatham-Kent, and that's what an event like FireFest is."
Still, with volunteer fatigue having set in, the FireFest committee needed a kick-start. Enter Dava Robichaud, one of the co-chairs of the resurrected Festival of Nations.
Robichaud said she's happy to help.
"My dad was a firefighter in Chatham for 39 years," she said.
Jordan Metz, of Metz Fire & Rescue, is also involved. His company, out of Guelph, builds fire trucks.
Metz now calls Chatham home and said joining in to help with FireFest just makes sense.
DeNure expects another strong showing of vintage fire trucks and other emergency vehicles for this year's FireFest. Included in the displays will be a 1927 Packard ambulance, the first ambulance owned by the Detroit Fire Department.
Sheryl Fox, historian with Detroit FD, said the custom-built Packard also served as a coffee wagon.
"It was produced to treat firefighters in the field," she said. "It's one of a kind. You are not going to see this anywhere else."
Also on hand will be a 1937 Seagrave that once served with the Detroit FD. Fox said it was one of the first enclosed pumper trucks, offering added protection to firefighters as they sped to the scene of a fire.
DeNure said there would be a variety of tiller fire trucks on hand as well. A tiller features two drivers –one in the front and another steering at the back of the long ladder truck.
FireFest is about more than the antique vehicles. DeNure said Bill Eisner, a veteran photographer who has been to close to 10,000 fires over the years in Detroit, capturing his first photo of a fire in 1962, will have some of his work on display.
There will be three documentaries aired on the Detroit Fire Department as well.
Children's events are also planned, and the event will end with a parade.
FireFest will actually start, however, on the Friday night, as DeNure said organizers would stage 10 to 15 fire trucks in Thamesville's downtown. Each year, organizers like to spread elements of FireFest around. In the past, they've been in Tilbury and Blenheim, he said.