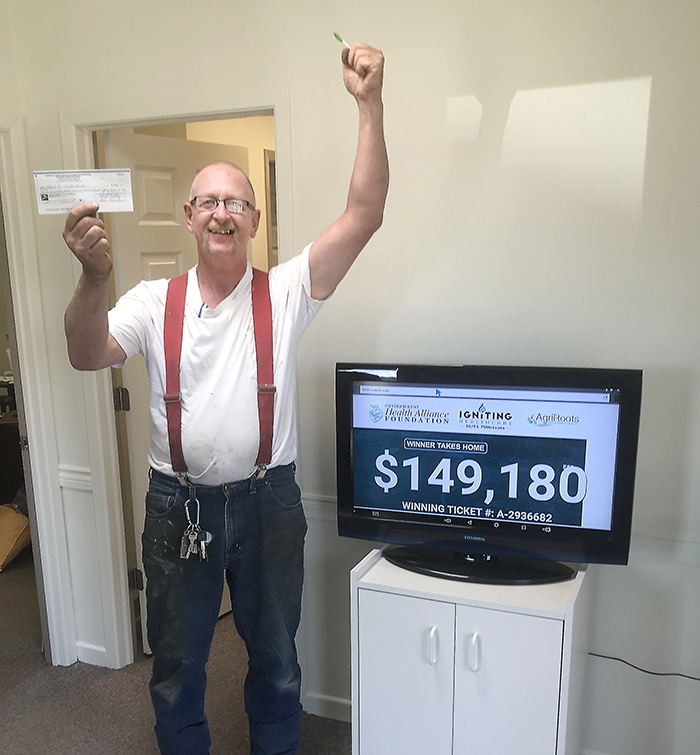 Bert Vanderheide is ecstatic after receiving his cheque for $149,180 from the Foundation of the Chatham-Kent Health Alliance, winnings from the foundation's 50/50 draw.History was made in Chatham-Kent for the largest ever take home from a 50/50 draw, thanks to enthusiastic volunteers, generous donors and a whopping winning amount of $149,180 won by Bert Vanderheide of Blenheim.
The 50/50 draw for Chatham-Kent Health Alliance Foundation concluded with an overall pot of $294,360, half of which went to the winner.
Vanderheide, 59, from Blenheim, is renting a home that he really wanted to buy and said the win hasn't really sunk in yet, and probably won't until he hands over the cheque to buy the house.
"My landlord is retiring and selling his properties. I really wanted to buy the house and now I can," said Vanderheide.
Vanderheide bought his ticket at the Foundation office on June 25 at 10:49 am.
"I'm not really sure why I bought a ticket, but my wife said I should pick some up…and well happy wife – happy life."
He was at Chatham Plumbing picking up parts when his wife texted him the winning number June 27 and asked if they won. He said he sat in his car, looking at his numbers and had to ask his wife if she was sure that was the number because he had a match. Vanderheide said she texted back to verify the number and said, "I think we just bought a house!"
Vanderheide works for JoVan Mechanical Plumbing & Heating Contractors Ltd.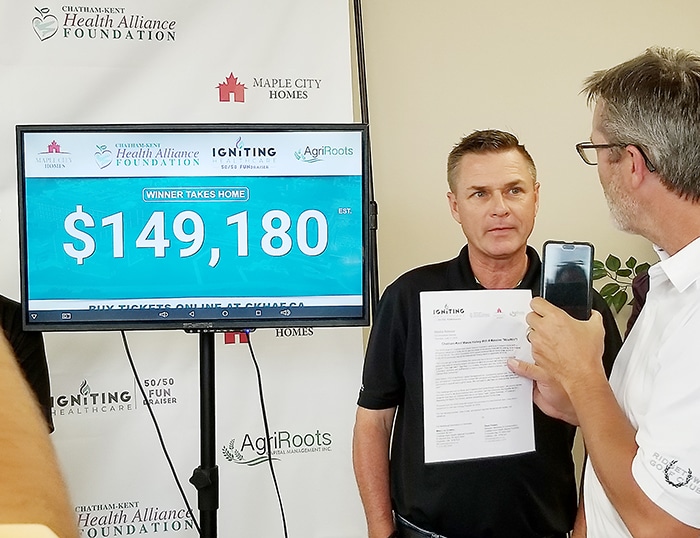 The Chatham-Kent Health Alliance Foundation, and presenting sponsors of the draw, Maple City Homes and Agriroots congratulated Vanderheide and thanked all of Chatham-Kent for the support.
CKHA Foundation President Mary Lou Crowley said she never imagined the amount would get that high, beating out the International Plowing Match draw in September that topped out at a total of $168,000. She credited all the volunteers that worked so hard selling tickets, the enthusiasm and support of people during the RetroFest activities, which had tickets sales soaring over the weekend, and the generosity of Maple City Homes and AgriRoots.
She said the whole campaign has been incredible and they would consider doing it again next year.
Crowley said the funds will be put towards bringing the urology department back to the CKHA Chatham campus, including the purchase of a new laser for surgical procedures.
CKHA CEO Lori Marshall was at the number draw at Maple City Homes and said the whole experience has been incredible.
"I'm so thankful to the Foundation for coming up with this idea, first of all, and all the volunteers who worked so hard to sell the tickets and inspire this enthusiasm, and then everyone who bought a ticket – it's been great," Marshall said.
She added that while there is just one big winner for the take home amount, the community as a whole is a big winner "because this is going to go a long way towards supporting the equipment we need to bring urology back to Chatham-Kent."
Currently, if someone needs urology services, they have to travel to Sarnia, Windsor or London. With an aging demographic in this municipality, Marshall said it is important that the need for urology services is met close to home. It was a need that was identified in the CKHA strategic plan.