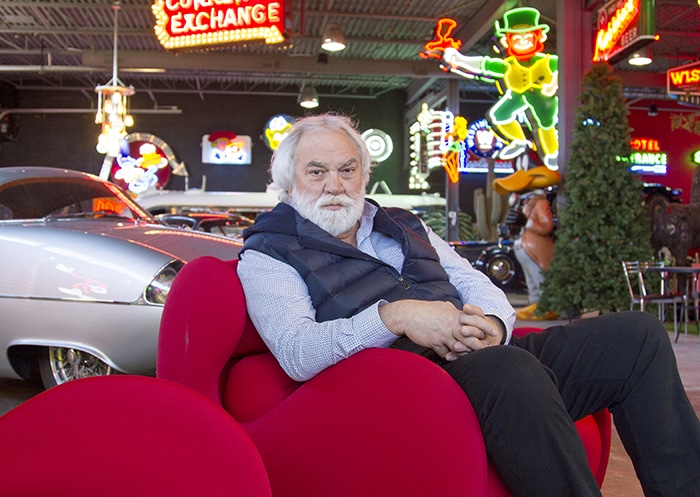 I've lived in Chatham since May of 2001. In that time, I've crossed paths with Rob Myers – the "RM" in RM Auto Restoration and RM Sotheby's – a handful of times. Those included various press events, at Bike Fest when he was out with his cute granddaughter, or while touring South Kent with his daughter in his 1957 Mercedes coupe – picture Rob trying to get flats of berries into the trunk of that car.
But until I sat down to interview him about RM's 40th anniversary celebrations earlier this spring, I never had a chance to just talk to the man.
For anyone who knows Rob, speaking to a member of the media is not his favourite thing to do. He feels a columnist burned him in an article in a business magazine several years ago, so he's loath to speak to other writers.
But he eventually agreed to chat with me, thanks to a good word from Fannie Vavoulis, the chair of the committee organizing all the crazy stuff happening this weekend.
He was pretty much exactly how I expected him: loud, proud and a bit of a conundrum – at times very humble, and at others, somewhat arrogant.
Let's face it, with what Rob has done with his business, whom he has met and done deals with over the years, and what he's done with a section of downtown Chatham, he has earned the right to those character traits.
He regularly rubs elbows with the rich and famous, and with the rich and not so famous.
Rob's nouveau riche, a compliment in my books. He didn't inherit his wealth, but instead busted his butt for years to get where he is today atop the auto restoration and classic auto auction fields. He has earned everything; it wasn't handed to him.
How can you not respect that?
It's hard to get a feel for Rob's reach in the automotive world, until you step into his office/man cave.
When I did that earlier this spring, I was immediately greeted by the strangest rear ends of three cars that I'd ever seen.
You could tell they were related, as they all had swept rear fenders that curled around the back of each vehicle.
I walked around to the front to see each was built by the same company, Alpha Romeo.
A chat with Rob revealed they were "bat cars." I googled "bat cars" and "Alpha Romeo" when I got back to the office and learned they are B.A.T. cars – B.A.T. 5, B.A.T. 7 and B.A.T. 9 to be exact.
It turns out, they were prototypes in the quest to create cars with the lowest possible drag coefficient. B.A.T. stands for Berlinetta Aerodynamica Tecnica. And in successive years, these cars were showcased at the Turin Auto Show – in 1953, '54 and '55.
And then I realized these are the only such vehicles ever produced. Three of a kind, yet three one of a kinds; built by an Italian sports car company more than 60 years ago.
And they are sitting in a man cave in Chatham.
That's how deep Rob Myers is into the auto world.
As for what Rob is to Chatham-Kent, it was disheartening to hear some folks on social media complaining, asking why everybody was so accommodating to one man and why the concerts weren't free this weekend.
Well, as part of the RM40 weekend, Myers and company want to raise funds for three charities. It's hard to do that with free concerts.
As to why the municipality and others want to accommodate RM Sotheby's so much, this is an organization that could operate literally anywhere in the world. It has 180-plus employees, most of who work here in Chatham-Kent.
RM's many clients are a globally diverse group. When they come here to check on progress on their vehicle restoration, Rob wanted them to have a rather unique place to stay, so he opened the Retro Suites boutique hotel.
It is an award-winning hotel and is a bit of a tourist destination on its own as a result.
But it also caters to many local events.
In fact, Rob has fixed up a nice chunk of King Street downtown. The backs of these buildings have a South Beach (Miami) feel to them as well.
Very unique, and located here.
Rob Myers does a great deal for Chatham-Kent. He has only a small window in which his staff are available to partake in the celebrations and this coming weekend was the best time.
Is he supposed to put on such an event when his people can't even be here due to requirements for auctions around the world?
Um, no.
So, yes, the municipality worked to accommodate. But it isn't for one man. It's for his employees, his customers, everyone who utilizes the Chatham-Kent Health Alliance, has children who need help through the Children's Treatment Centre of Chatham-Kent, and who may have a friend or loved one who will pass through the C-K Hospice.
That's pretty much everyone in Chatham-Kent. Yeah, we can bend over backwards to help accommodate him. In fact, it's the least we can do.